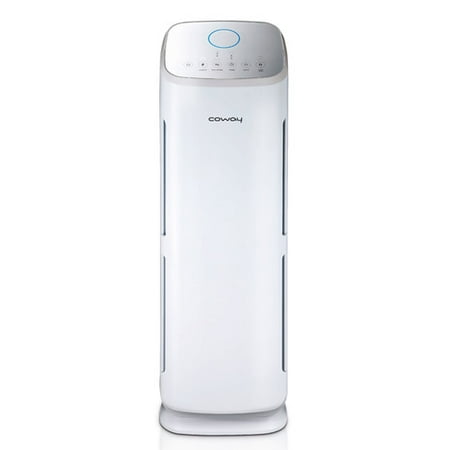 Features: -4-Stage filtration with ionizer (pre, carbon, true HEPA, vital Ion). -Automatic speed control. CWY1011
Features
4-Stage filtration with ionizer (pre, carbon, true HEPA, vital Ion)
Automatic speed control
Warnings
:
Warning Text: Do not exceed the voltage and power rating of the power outlet or connection device. This may generate excessive heat and cause electric shock or fire.Only use the appropriate type of electric socket for the product. Connecting the product to an incorrect socket may result in damage.Do not immerse the product or any of its parts in water. Operate the product only after a qualified technical examines and replaces the parts that were under water.Do not touch the power plug with wet hands.If the electric outlet is wet, do not connect the power plug of the product. Wait till the electric outlet dries completely before use.Do not operate the product if the motor fan fails to operate or is damaged.Remove the power plug from the electric outlet by grasping the power plug and pulling it gently. Never pull the cord to remove the power plug.Keep the electric cord away from heat sources.Do not repair the product unless this manual recommends it. Doing so will void your warranty. All repair work must be carried out by a qualified technician.This product has a polarized plug (one blade is wider than the other). To reduce the risk of electric shock, this plug is intended to fit in a polarized outlet only one way. If the plug does not fit fully in the outlet, reverse the plug. If it still does not fit, contact a qualified electrician. Do not attempt to defeat this safety feature.Do not use this product in industrial areas or factories where oil, grease, or dust particles may be present. This product is for household use only.Do not change the filter while the product is operating. Always turn off the product and unplug the power plug before accessing the components inside the product.Do not place the product near a humidifier or in humid areas, such as bathrooms or laundry rooms, where the product may come into contact with water.Do not place the product near flammable gases, cigarettes, incense, and other combustible materials.Do not place the product on a bed or against soft objects, such as curtains.Do not clean the product using detergents, paint thinner, or other household solvents.Do not spray insecticides or other flammable materials near the product.This product contains a chemical known to the State of California to cause cancer and birth defects or other reproductive harm. (California law requires this warning to be given to customers in the State of California)
California Proposition 65 Warning: WARNING:This product contains chemicals known to the State of California tocause cancer and birth defects or other reproductive harm.
reviews
I like my second Coway air purifier..