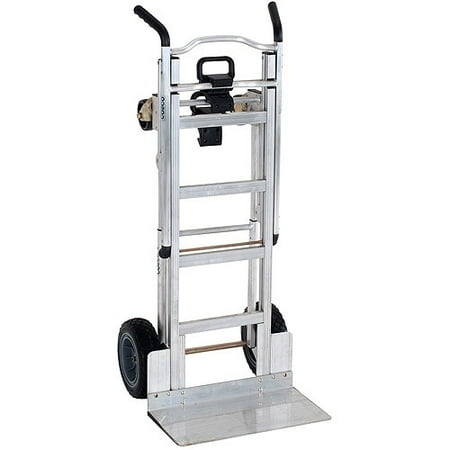 Let this lightweight Cosco Aluminum Hand Truck do your heavy lifting. The ergonomic design makes it suitable for use at home or work. This Cosco 3-in-1 Hand Truck/Assisted Hand Truck/Cart with Flat-Free Wheels easily converts to a two-wheeled upright, a four-wheeled cart or an assisted four-wheeled hand truck. It is easy to maneuver and offers convenience for residential and commercial applications. This reliable hand truck has a capacity of 1,000 lbs. The heavy-duty flat-free wheels let you easily and quickly move heavy and unwieldy objects.
Cosco 3-in-1 Aluminum Hand Truck/Assisted Hand Truck/Cart with Flat-Free Wheels:
Reduces the chance of injury, fatigue and muscle strain
1,000-lb capacity
Heavy-duty flat-free wheels
Quick 1-hand conversion, no pins or tools
Easy to maneuver
Cosco hand truck for both home and office
Lightweight, commercial-grade aluminum
reviews
Very easy to use–Beats a wheelbarrow hands down!
Used one everyday for two years in the cart position carrying 300+ pound loads. Replaced tires for a heavy duty pair after six months. Finally broke one of the welds last week. Went out and bought another one the next day.
Easy to manouvre, fairly light but not flimsy in any way, and great as a multi-purpose tool for our outside catering company.
We previously purchased a $50 hand truck rated for 400lbs from home depot and the small plastic wheels broke the second time we used it with only 300lbs on the truck. Therefore we decided to increase our budget and found this beast of a hand truck. It truly is easy to operate, no pins to pull out and lose, just pull on the bracket and slide the bar and you have a flatbed truck, or slide the other bar and you have an angled truck. So easy and lightweight for most people to lift and transport with little effort.
Sturdy and great buy,only complaint is the handle is not adjustable
Light; but very strong. The oversized base is great for all objects. It quickly and easily converts into 3 different dollies for whatever occasion arises.
I wanted a good hand truck and after looking around and seeing many hand trucks I came across this Cosco 3-in1 hand truck. It is a very strong truck. I don't believe you will go wrong with one
This hand truck is a real good investment. It is to handle, light weight but very strong. The wheels are just the right size and are very durable. Great addition to my tool collection.
I had one at home, as a gift two years ago, and I use a lot at home and like it. I ordered one for work and one of the latch was broken while shipping. I am doubtful about long lasting because of the plastic latch which are not repairable. It is a good idea but would be nice with the stronger latch.