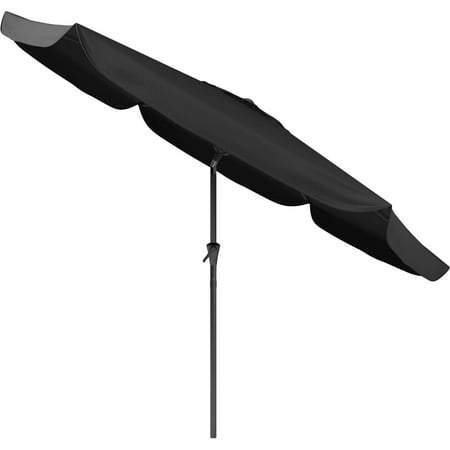 Bring style and functionality to your outdoor furniture grouping and stay protected from the elements with this CorLiving Tilting Patio Umbrella. It has a strong, corrosion-resistant steel frame covered with 100 percent, UV-resistant 180g polyester for extended use. This heavy-duty patio umbrella includes built-in air vents to prevent the development of mildew and overhanging flaps for enhanced coverage. It also features a crank and pulley system with a tilt that allows you to switch the umbrella location as needed. It's easy to assemble and simple to store at the end of the season. It comes in a variety of fashionable colors to suit your needs.
CorLiving Tilting Patio Umbrella:
Durable 180g polyester
Gray/black frame accented with UV-resistant umbrella
Convenient crank and pulley system
1-position tilt
Side flaps for added shade
Heavy-duty steel frame
Easy to assemble and store
3m patio umbrella
Available in black, sandy brown, warm white or wine red
Offers protection from the elements
reviews
I use this on my front deck. It's perfect. Very well made for the price.
This is the perfect size for our round table seating six, the color wasn't as deep red as I expected, more of a wine color but it works
As it turns out, just less than $ 100. This is by far the best surprise in quality that I have had in recent years. I saw umbrellas at three and four times the price but can not imagine being any more satisfied than I am with this item. In addition, this is the second item which I have ordered from Hayneedle and they have absolutely shocked me in their handling of my order, …. Not the least of which is beating my expectations in delivery. When you buy it, you want it, and Hayneedle DELIVERS !!!
Love the color and it semems to be heavy enough but not too heavy. Had an aluminum one and the wind destroyed it only had this one for a few weeks so have hopes it well ladt
We really like this size and style so we bought another one. Button fits and redesigned crank works well. Fabric is still a little thin. It's decent for the price.
Lower pole Spring button will not align with hole in upper pole. Crank seams to have some problem, skips occasionally.