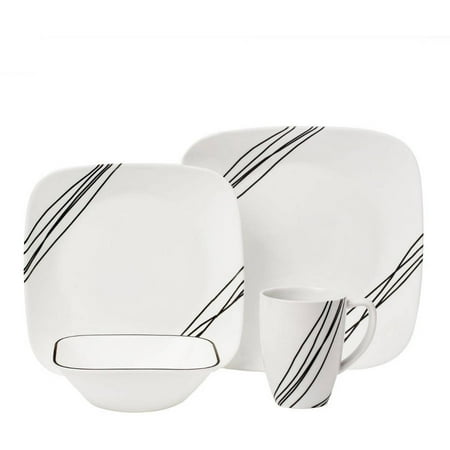 The Corelle Squares Simple Sketch 16-Piece Dinnerware Set features sleek, squared shapes with rounded corners and flared rims that fuse seamlessly with the traditional rounded centers.¿¿The sleek brush strokes and designs artistically strewn across pure white backgrounds give this a modern and timeless appearance making is a cool choice for everyday dining and entertaining. Use this versatile Corelle dinnerware set in your dishwasher or microwave without any fear of chipping, fading, or scratching as it is made of multi layer glass fused together to form light weighing yet strong glassware.
This Corelle Squares Simple Sketch 16-Piece Dinnerware Set can be handled with easy due to their ergonomic design and also enables you to stack them neatly without occupying much space. Each set comprises of 4 bigger luncheon plates, 4 oversized dinner plates, 4 cereal/soup bowls, and 4 mugs. The circular center impression in these lightweight dinner plates makes serving of dinner easy. 
Corelle Squares Simple Sketch 16-Piece Dinnerware Set:
The lightweight dinnerware set has 16-pieces; service for 4
(4) 10.25″ dinner plates
(4) 8.75″ salad plates
(4) 22-oz. soup / cereal bowls
(4) 12-oz. mugs
Lightweight and stackable
Microwave and dishwasher-safe
Fade, scratch and chip-resistant
The contemporary dinnerware set includes manufacturer's 3-year replacement warranty against breaking and chipping
Directions:
Instructions: Please read safety and usage instructions packed inside before using.
Fabric Care Instructions: None
reviews
My fanily always gets this brand as a way to celebrate someone moving out. I was so excited to get my set and it looks so nice. It makes all my meals look more beautiful and nicely plated
I use this set when we have guests over! We always revive compliments on how beautiful they are.
The lines are not dark black as pictured. They look faded. Ordered two boxes and one of the boxes the dishes were completely broken. The box /packaging is a lot smaller than expected.
I knew it was time for new dishes when the only one I had left was being placed under a plant. All the other dishes in the set I'd received from my older brother who worked for Owens-Corning in 1976, were used to deliver cakes, cookies, casseroles and strangely were never returned! I guess everyone thought the dish was part of the gift!
We look the square look. We had Corelle dinnerware previously, so we knew the quality would be good. So far we are pleased with this purchase.
Durable, great look, easy to care for, goes from microwave to table! Safe for children to use because the product is nearly unbreakable! Colors stay bright even after years of use. I have had 5 sets over the years and they are still being used as I passed them down to nieces going to college, my kids who moved out on their own and even to my ex!!
Very happy with this purchase. My other stuff was just too heavy so we went to something lighter.
I bought this as a Christmas gift for my son and family who has four children. I know it can stand up to family use. It is beautifully elegant yet sturdy. Perfect for everyday use or that special dinner party.
Was extremely happy with the entire purchase. Love the shape of the dishes and the color design. Was delivered within a few days. Would definitely recommend these dishes and as always Walmart never lets me down.
What is there to say about Corelleware? It's an excellent product…has been around for decades, feels like fine china, but virtually bounces if dropped. The updated square shape, and art deco prints keep it young!
I love the square plates. The mugs are just the right size. The design can be dressed up for a special dinner, or used as is for an attractive, everyday meal. This is actually my second set. I ordered one set to see how I would like it. Now I am expanding it to make it our regular dishes. Love it.
I loved shopping on line at Walmart. My dishes came in about 2 days. I love them, very satisfied.