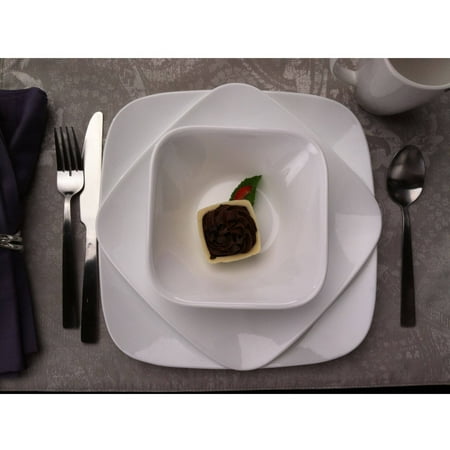 You'll enjoy serving your favorite meals to your friends and family on the Corelle Squares Pure White 16-Piece Dinnerware Set. This elegant white dinner set features sleek, squared shapes with rounded corners and beautifully flared rims, which fuse seamlessly with traditional rounded centers. The result is a fresh yet timeless look — perfect for everyday dining and entertaining. Providing service for up to four diners, this dinner set comes with four dinner plates, four salad plates, four bowls and four 12oz mugs. Plus, it's fade, scratch and chip-resistant — you'll be able to use these dinner plates for years. The dinner set is also lightweight, stackable and microwave/dishwasher safe.
Corelle Squares Pure White 16-Piece Dinnerware Set in Pure White:
16-pieces; service for 4 diners
Sleek, squared shapes with rounded corners and flared rims
(4) 10.25″ dinner plates
(4) 8.75″ salad plates
(4) 22-oz. soup or cereal bowls
(4) 12-oz. mugs
Lightweight and stackable for easy cupboard storage
Microwave and dishwasher-safe
Fade, scratch and chip-resistant — you'll be able to use this white dinner set for years
The Corelle Squares Pure White 16-Piece Dinnerware Set includes manufacturer's 3-year replacement warranty against breaking and chipping
reviews
Newly widowed and newly retired, I am slowly re-vamping my household and lifestyle. I decided it was time to get a new set of dishes because I was tired of having my stoneware dishes chip or crack. In addition, as I age, I don't want to be burdened with lifting heavy dinnerware up into my cupboards. I came upon this set of Corelle square dishes and decided this would be the beginning of my new life. I chose it because it is fun and kicky. It's lightweight and easy to lift. It is durable and will last me the rest of my lifetime. Please note: The coffee mugs are made of porcelain, not Vitrelle. I love the mugs because they have a nice "hand". They hold in your hand very nicely. Because they are porcelain, they might not be as durable as the dishes, but nonetheless, I love this product line!
I am very pleased with the dinner ware. It is light and very easy to store. Should have bought this a long time ago,
Love love love this set!! Looks great, light weight and easy to clean!!
Great replacement for old and used dinnerware. A good investment.
I have had the basic round set for many years and they were all chipped around the edges. The goal was to purchase updated classier dishes that are made in the USA. After looking and looking, I came back to Corelle. I like the light weight feel that stacks compactly. Even though there is no design on the dishes the square shape and circular indention in the center have a classy look to them. I feel like I found what I was looking for. Was not expecting to purchase Corelle again, but it had the look and weight we wanted and best of all they are made in the USA.
I love the dishes and am very happy with Walmart's prompt delivery of them. Dishes are exactly as promised. Very light weight and the dessert plate is large enough to be used as a dinner plate.
Three days after receiving these plates I had a dinner plate, side plate, and bowl fall from the kitchen counter. On impact they exploded into a million pieces. I thought Corelle dinnerware was unbreakable however I see now it is "break resistant". Disappointing.