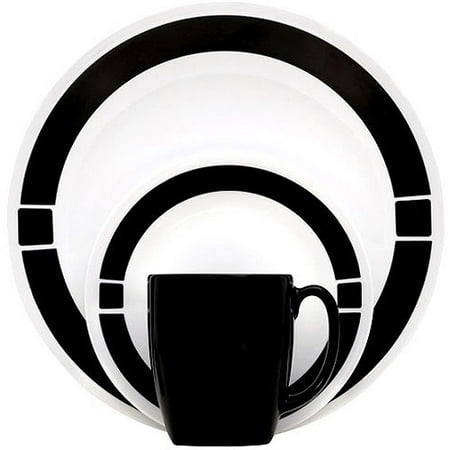 The Corelle Livingware Urban 16-Piece Dinnerware Set offers the ultimate in easy care for every day dining. Modern and fresh, it is ideal for all occasions. Featuring a scratch-resistant finish, this black Corelle 16-piece dinnerware set is lightweight and will maintain its good looks for a long time. The contrast of a crisp white background and a thick black design, gives it a classy look. Lightweight, dishwasher safe and stackable, this set includes four dinner plates, four salad plates, four soup/cereal bowls and four stoneware mugs. This microwave safe dinnerware set is an excellent choice for parties and get-togethers. The long lasting design is also fade- and chip-resistant as well as thin and easy to store. With the Corelle Livingware Urban 16-Piece Dinnerware Set, you will be prepared for dining with family and friends.
Corelle Livingware Urban 16-Piece Dinnerware Set, Black:
16-pieces; service for 4
(4) 10.25″ dinner plates
(4) 6.75″ salad plates
(4) 18-oz. soup/cereal bowls
(4) 11-oz. stoneware mugs
Lightweight, thin and stackable microwave safe dinnerware set
Dishwasher-safe
Fade-, scratch- and chip-resistant
Includes manufacturer's 3-year replacement warranty against breaking and chipping
Corelle 16-piece dinnerware set color: black
Ideal for every day dining
Also suitable for parties and get-togethers
White background with black design
Directions:
Fabric Care Instructions: Dishwasher Safe;Microwave Safe
reviews
Corelle products are much sought after for their durability and their designs. It is a trusted brand and I intend to purchase more in the near future.
My roommates and I use these every day and they're great because they're light weight yet sturdy. Love the design and how long they last.
Love the dishes…they look great, light weight and overall just love them
Great product.. especially having two young boys.. would definately recommend to families with young children.
Loved this price. My family love corelle dishes. Would recommend this set and would purchase this again.
I was looking for some new lighter weight dinnerware. Stoneware is just to heavy to handle for arthritic fingers and hands. Love the design and color combo.
I let my future daughter in law and son pick out the pattern they wanted. I love Corelle for its durability and great value!
We bought this dinnerware set for our new home. I am waiting to move before I open the boxes so the only review I can give is about the Corell I have owned in the past. As far back as I can remember my family has Corell. My mom used them and so do I. They are light, and durable. They are dishwasher safe and don't scratch easily. My only complaint is that they will shatter if dropped on a cement like surface.
I love this set. I went away from corelle with my last set of dishes and while I liked them a at first, they cracked and chipped easily, and I am not hard on my dishes. I am so happy to be back with Corelle – I know these will last! I only wish there were additional color options so I could mix and match but still have the same pattern.
I bought this a month ago and dishes were all broken. Good thing our local walmart honored the purchase and exchanged for a new set.