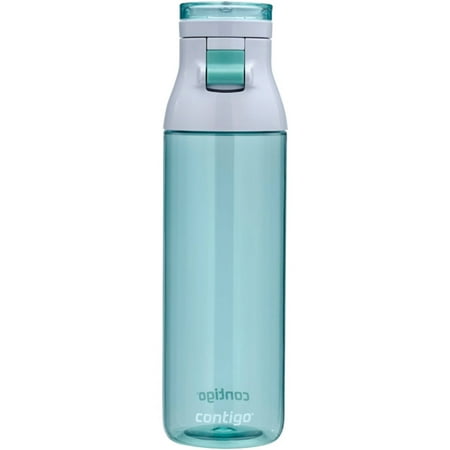 Stay hydrated anywhere you go with the Contigo Jackson 24-oz Sleek Water Bottle. It is made of Tritan materials and is BPA-free. It also does not retain odors. In addition, this FDA-approved Contigo water bottle in an attractive greyed jade color features a large opening, allowing for easy maintenance and effortless filling. The large 24-oz size and leak-proof design allow you to keep a sufficient supply of liquids on hand while jogging, spending time at the gym, camping, tailgating, traveling and more. The slender style fits into most standard-sized vehicle cup holders. It also includes a simple flip-top lid that requires the use of just one hand for operating.
Contigo Jackson 24-oz Water Bottle, Greyed Jade:
24 oz
Large opening makes it easy to clean and able to be placed under an ice dispenser
Carrying handle
Locking button
Wide-mouth drink interface
Color: greyed jade
Simple flip-top design
One-hand operation
Contigo water bottle is specially designed to fit most vehicle cup holders
Leakproof
Reviews
Great bottle it doesn't leak and it is easily opened.
I like that it holds 3 cups, 24 oz. It's easy to use and dishwasher safe. It says top rack only but I put the lid in the top rack and the bottom part on the bottom rack just not directly over the heating element. Works fine – all dishwashers aren't alike though.
I have been using these products for last few years. And I am very much happy about the quality, usage, and look…
it is for 3rd grade girl and she loves it . I t looks clean and modern. I like it.
I bought 2 of this brand/style, however, different colors for my sisters who are always together and they have their own without a mix-up. The bottle is useful, practical, easy to clean, and it was well received! Enjoy!