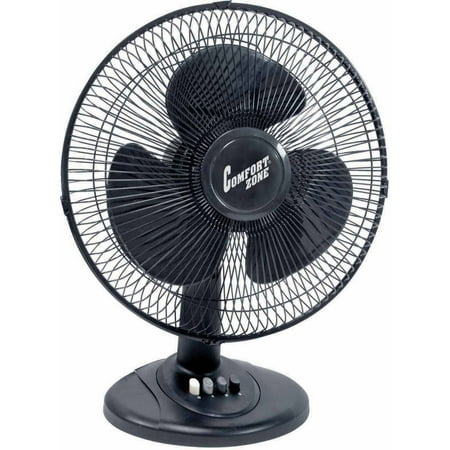 This Comfort Zone 12″ Oscillating Fan efficiently increases circulation while improving overall airflow. Set it up in any room that needs a bit of cooling. This 3-speed oscillating fan lets you adjust the current power level. It has a compact size that allows for easy placement in small spaces such as a table top, counter, shelf and more.
Comfort Zone 12″ 3-Speed Oscillating Fan:
ABS blades
Three-speed oscillating fan
Comfort Zone oscillating fan is ETL listed
Efficient and increases circulation
Improves overall airflow
Compact size for easy placement
Place on table tops, counters, shelves and more
reviews
Really pleased with this fan; its quiet and puts out a strong breeze. This purchase was a replacement for a 16″ table fan and I was pleasantly surprised at the air flow from this smaller fan. Easy to assemble and lightweight for portability but sturdy enough that its not going to topple over. I would definitely recommend this fan. Would like to see some other color choices, this one is all black.
works super great gonna buy another one
The fan is fairly quiet and easy to put together.
The 12″ Comfort Zone fan is a great fan at a great price. I purchased 2 for my home. You have to assemble part of it when you receive it, but hey, that's a good thing when you take into consideration that the higher cost fans such as the Holmes Blizzard fan has a bonded on grill face, which means you can not take it apart to clean or oil the Holmes. The Comfort Zone fan is really easy to take apart and clean, and looks like oiling it would be no trouble either. The Comfort Zone 12″ fan throws a lot of air. Even on low it puts out a nice amount of air. So far no rattles or weird noises, just the sound of the blade moving air. The push buttons to control the speed seem to be of a decent quality. It has a nice long cord and a well made plug.
I plugged it in and it made a high pitched frequency type of sound. My two other brands of oscillating fans do not make that sound. I packed it back up, and it is going back to the store. I can not live with that sound which must sound worse to my cats than it does to me….