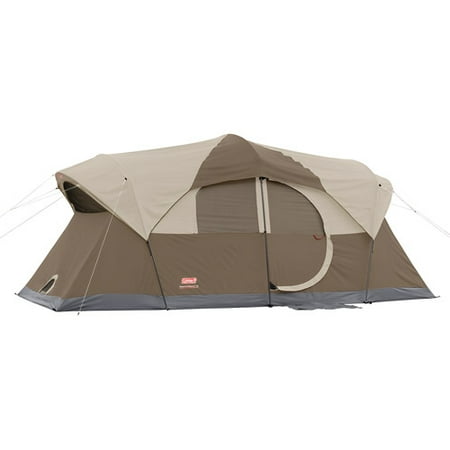 The Coleman Weathermaster 10-Person Dome Tent provides a comfortable sleeping environment for a single family and will accommodate up to 10 people if necessary. It's one of the larger tents on the market, and it's designed for easy setup. Its walls are constructed from taffeta polyester and the floor is made from 1,000D polyethylene for enhanced durability. The Coleman Weathermaster tent has a "D" style door for easy entry, and the entrance comes with both a hinged door and a zipper door for added versatility. There is a single electrical access port for powered camp sites or for use with a generator. There is a single privacy vent window, and a vented cool air port. The center height of 80″ makes it comfortable for most people to stand in, and an interior gadget pocket keeps your electronics safely off the floor.
Coleman Weathermaster 10-Person Dome Tent:
Cabin tent
Tent wall construction: Taffeta polyester
Tent floor construction: 1,000D Polyethylene
Suitable for 10 people
1 hinged door and 1 zipper door
"D" style door
Privacy vent window
Vented cool air port
Cabin dome tent with an interior gear pocket
Electrical access port
Center height: 80"
reviews
Our current tent is a Coleman and we got many many years of camping without complaint. When the material started to show signs of age, wear and tear, we decided to purchase a new one. After much research, we decided on this one. Ordering was very simple and delivery was fast. We set it up for a dry run this past weekend to make sure that nothing was damaged and everything looks great. My only complaint with this product is that the instructions are simply pictures and ONLY SPANISH writing. My husband and I are reasonably intelligent and were able to set the tent up without the instructions, but a first timer would likely have difficulty. While pleased with the product overall, I am disappointed with the company's instructions. 🙁
We bought this tent a year ago and it has been on several camping trips. Every time, we get comments from others who can't believe how much room there is inside, both floor space and headroom. + It does take 2 of us to set this up. + Takes less than 15 minutes to set up. + Can fit 1 queen air mattress, 2 twin mattresses and still have enough room to add 2 chairs (bit of a tight squeeze with the 2 chairs) if you want to hang-out inside your tent during the rain. + several places to hang a lightweight lantern from. + rain guard is good enough to handle a a camping trip with rain over 3 days. The only leak came from the "framed" D-door and I think that was because we set up tent on slightly angled ground. + With guy lines/ropes (included) in place, it withstood 4 days over VERY heavy wind while 3 of our friends had their tent and/or easy-up canopy blow over. + Every single "window" has screens with zip-up wind shields. Massive cross-ventilation. + Storage bag (included) is big enough to accomodate all tent supplies with a bit of room left over. What would I change? – The plastic tent pegs (in fact, we immediately replaced them with metal ones that work beautifully- longer and stronger) – The "framed" D-Door in front (pictured in photo on this item) is difficult to "frame". On the very first camping trip, both rubber pegs at the end of the fiberglass rods got stuck in the pocket that they are fitted in to. Also, the rods split. Thank goodness for duck tape which fixed the split and we just left the rubber pegs in the pockets where they stay… stuck. – The metal legs (with pegs/holes to lengthen or shorten the legs) are difficult to use. This is where the "2-person set up" comes into play. I tweak the fabric across the tent or hold the bottom of the leg down while my husband pushes in the peg and twists, trying to get the legs to the proper length.
We purchase this tent for an upcoming camping trip so we have not use this product as of yet! Our purpose for purchasing it was the weather resistance!
This is a good tent but not for warm weather it has very poor ventilation. I have used this tent twice so far, neither time did it rain so I can't comment on how dry it is. The first time was in the Texas panhandle in early September. The temperature was very hot and with the window up so high it did not have any air flow. The second time was early October in north Texas the temperature was much cooler and the trip was great. I love the hinged door it is nice not having to zip the door going in and out. The only this is the high threshold on the door, you trip on it the first few times in and out. The tent is very roomy, we had three large guys with all of our hunting gear just thrown around. My previous tent was an Ozark Trail lodge which was bigger than this one but the rain fly developed holes and could not find a replacement. I would recommend this tent it can hold 4 people very comfortably or you can squeeze a 5th for short stays.
Having read several reviews I puschased this tent regardless of many people stating the tent leaked. D'Oh! Sat the tent up on recent hunting trip to Utah. Applied liberal amount of Coleman Seam Sealer on all seams and let it dry for several hours. A light rain set in on us that evening and there was a small amount of water on the floor of one corner the following morning. More rain the next day but not a driving force. Just gentle mountain showers. Tent leaked everywhere. The rainfly leaked and there was water dripping in from above. The sides of the tent weeped water in. The poor guy sleeping on the down slope ended up with a wet mattress and bag. Upon return to home I contacted Coleman as per the instructions from them not to return it to the store. So I am returning it (at my expense) for exchange because I didn't realize I could have returned it to Wal-Mart. Double D'Oh! Coleman was hesitant to replace it; wanting to send me a couple of cans of Scotch Guard which I vehemently protested. I usually love Coleman products but I warn any prospective buyers of this item to beware. I'll soak the next one in Scotch Guard before using it and put a tarp over it.