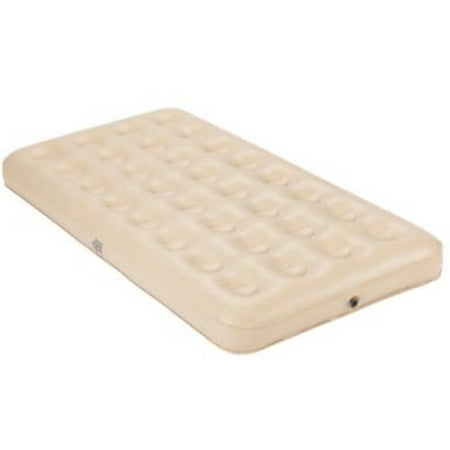 Take the comfort of an indoor bed with you when you sleep outside on the Coleman GO! Single High Airbed. It's perfect for a night under the stars or for giving house guests a comfortable place to sleep during visits. Grab your favorite Coleman airbed pump and connect it to the Double Lock valve for easy, leak-free inflation. Once you find the perfect firmness, the AirTight system will help keep it there, since it's factory-tested to be leak-free. The ComfortStrong coil system provides all-night support. When you're ready to pack up, the Double Lock valve lets you deflate the bed just as easily, and you can head off on your next adventure. Coleman Twin Single High Vinyl Airbed:
AirTight system is factory-tested to be leak-free
ComfortStrong coil system provides better support for all-night comfort
Double Lock valve is dual-sealed to be leak-free
For use outdoors while camping or indoors as an extra bed
Fits standard twin size sheets
Supports up to 300 lbs
Approximate inflated dimensions: 72.5 x 37.5 x 7.5″
1-year limited warranty
All Coleman airbed pumps recommended (sold separately)
reviews
I didn'the think the flocking would make that much of a difference but it does. It is still a good mattress. I love the valve. You can close the inside and the pull out the pump and not lose air. It is more comfortable after being inflated for a couple days.