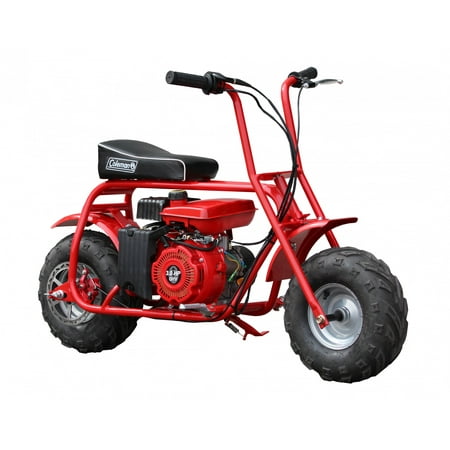 The Colema Trail 100U reinvents the classic mini bike design with modern materials and craftsmanship. The reliable 3HP OHV engine will power you through the trails all day with plenty of muscle while being gas efficient. The robust steel frame will withstand years of use and the rear disc brake allows for reliable stopping. The easy pull start-stat operation with 98cc engine provides pleny of power.
Coleman Trail 100cc Mini Bike:
Weight — 82 lbs
Load capacity — 150 lbs
Ground clearance — 3.5″
Wheelbase — 34″
Engine type — 4 stroke OHV — 1 cylinder
Displacement — 98cc
Bore and Stroke — 56mm x 40mm
Fuel capacity — .42 gal
Transmission — automatic centrifugal clutch
reviews
Very surprised in a good way with the quality of these! Starts on the first pull every time and the wife and kids love this thing! What it is: It's a perfect backyard knock around mini bike… or a pit bike for the car shows or swap meets. It's quiet, doesn't need the entire throttle to get rolling… It's simple, yet you couldn't build one yourself for the money. I've spent more on replacement engines all by themselves for what I spent on this whole mini bike. I got 2 of these and they were identical in quality and setup out of the box. And I picked them both up in store. Just a simple, low budget, easy to entertain with mini bike for the kids family and friends… What It's not: I know where the Honda Kawasaki or Yamaha dealer is…if I wanted to go that direction and I have…but I honestly got more memories riding one of these than I do riding any of the the higher end toys. So call it nostalgia…I don't know but we have more fun on these.
From start to finish great job
I bought this for Christmas for my son. It started up and ran great for about 20 minutes then cut off and made a horrible noise. I called Coleman, they had me take it to a local shop and they covered the repairs. When we got it back, it was perfect for another half hour. So they had us take it back. Same story. The third time, they had us take it to a different shop. We got it back and this time it worked for a few hours before it did the same thing again!!! the shops replaced the choke and the clutch twice. Now that it has failed again, Coleman will not answer my emails or calls. It is now beyond the warranty time. I am so disappointed that the "awesome" gift I thought I was getting for my son is nothing more than a space taker in my carport.
Mini Bike / Brand : Coleman Powersports / Engine Displacement : 196 cc / Starter Type : Recoil / Maximum Speed : 24 mph / Product Width : 26-1/2 in. / Product Length : 57 in. / Product Height : 38 in....
Whether youre new to minibikes or are just looking to relive the time you spent building one with Dad, youre going to have a blast with Colemans Trail 200. The impressive 196cc pull-start engine will ...