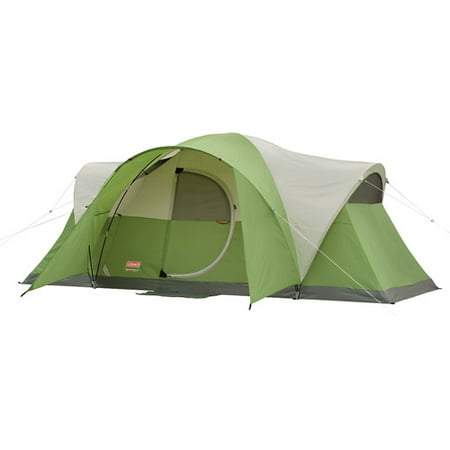 With its cabin-like design and plenty of room to stand and move, the Coleman Montana 8-Person Modified Dome Tent feels more like a house than a tent at the campsite. It's designed to hold up to the weather. Specially angled windows let in the light but not the water when it rains, even when they're open. Insta-Clip pole attachments stand up to high wind, and the WeatherTec System's patented welded floors and inverted protected seams help you stay dry. The snag-free, continuous pole sleeves mean you only have to feed the poles once — reducing setup time to just 15 minutes. The spacious interior is large enough to fit three queen-sized airbeds. Before you lie down, attach the fly for protection from the rain, or on dry nights, gaze at the stars through the mesh roof. Coleman Montana 8-Person Modified Dome Tent:
Cabin design with specially angled windows that keep rain out even when they're open
Great for family car campers, scout leaders, extended camping trips and more
Electrical access port to bring technology inside the tent
Hinged door
Door awning, protection from rain and sun
WeatherTec System: patented welded floors and inverted seams keep water out
Detachable rainfly for weather protection
Mesh roof for more sunlight
Insta-Clip pole attachments stand up to winds
Snag-free, continuous pole sleeves for easy setup
Interior gear pocket makes small, important items easy to find
Easy, 15-minute setup with color-coded poles
Carry bag with separate sacks for poles and stakes
16′ x 7′
6'2″ center height
Limited 1-year warranty
reviews
My family loved it. This tent was perfect for what we needed. We were first time campers. There were only 4 of us with plenty of room to spare. We were missing 2 kids this trip. I know we could easily fit them as well. Comfortably fit 2 queen air mattresses, possibly 3 but wouldn't leave much room for stuff. Probably an easy set up if you are familiar with tents. With a little help from seasoned camper friends we got it together and I'm confident we would have no problem next time alone.
Very easy to put together. Feels like a quality product. Time will tell.
I used this tent for the first time this weekend .. performed great. Easy to set up with 2 people…may be hard with one. This tent is HUGE .. way bigger than it looks in pictures. There was only 2 of us, and we put a queen size air mattress on one end and an inflatable sofa and chair at the other and still had plenty of room to spare. I gave it 4 stars because I just wish it had more windows . Although we had no problem with ventilation, I just like to have more windows. Overall a great tent.
Family had outgrown our trusty 4-person tent. Bought this tent because of the full coverage fly. The tent is very roomy and the features (hinged door, zippered vents, full fly awning) make it a great choice for family camping. We withstood some light rain and we stayed totally dry. I only hope that I'll get as many years of use as our previous tent. Tent goes up easily with two people – the fly is the most challenging part. We are very happy with this purchase and would recommend.
Used it for the first time this weekend. We love the swinging door, and the fact that you can standup in the middle of the tent. You could fit 4 people in it comfortably (with stuff), or squeeze in 5 with gear.
Bought over the Winter on sale. Great value for the money. Camped it four times this year with some rain every trip. Easy set up with two people. Awkward for one person. Hugely roomy inside. Room for a double bed air mattress with 5′ open space in the middle and a large table at the other end. My buddies took to calling it the "Tent Mahal". Packs up small enough to easily sit on your motorcycle's passenger seat. One nit. too much tension on the door once set up. Really strains the door zipper. I unclipped the tent near that spot to relieve it and it worked fine. No zipper failure. Problem seems to be working out with use. During fourth trip it was stretched out a bit and worked better than when new. I did treat it with Camp Dry. Very waterproof. Hardly a drop got in during one deluge. No puddles on floor! I loved that it had room to cook in it! Lost a star to the zipper tension problem. Otherwise an excellent basic tent!
We picked up our tent from walmart two days ago. We set it up on a cool summer day. We had steady rain in the evening. It was not windy. The tent was assembled in our yard to see how it would perform. We assembled it correctly with the rain-fly on. We returned to the tent in the morning and there were puddles near all the zipped windows. Pillow was soaked through. This tent will leak considerably in the rain. It can only be used in dry weather conditions. This is not a good family tent. Children will be soaked. I can only upload one photo. There were five puddles in the tent.