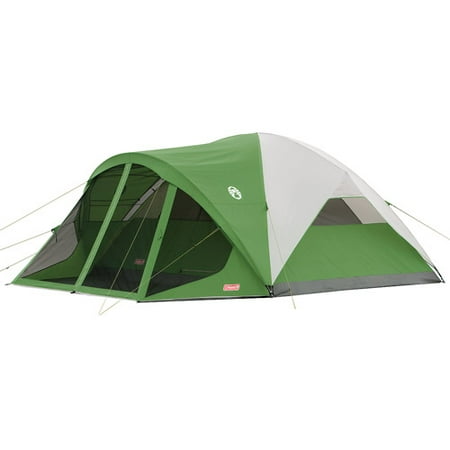 The Coleman Evanston 8-person Screened Dome Tent provides a comfortable sleeping environment for a family or group of friends. It comes with a 15′ x 12′ screened-in porch for casual lounging during the day and into the night. This Coleman dome tent employs the WeatherTec system to keep moisture out and everyone comfortable and dry. It has a 72″ center height which will allow many people to stand comfortably. The enclosure sets up using a pin and ring style of construction. The poles slide into attached sleeves for added stability and easy installation. This 8-person dome tent is easy to transport and designed for quick setup, as well. It comes with two privacy windows that provide adequate ventilation and a view to the outdoors. A rain fly is included for overhead protection in rainy conditions.
Coleman Evanston 8-Person Screened Dome Tent:
Exclusive WeatherTec system
72″ center height
Fully screened front porch area
Modified dome structure
Coleman dome tent is easy to transport and set up
Insta-Clip attachments for convenient setup
Pin-and-ring design with continuous pole sleeves
reviews
Bought this for a family camp weekend . Set it up before we went out and had a huge rain storm that dumped 4″ of rain that night. 3of the 4 corners leaked a bit but was not bad. Cleaned up with one dish towel the next day and used seam sealer.. Love the screen area, and no it is not fully covered by the rain fly. If you get water in it just pull the front pegs and let in run through the holes in the corners. Very easy to set up by one person . Most negative reviews are about the screen porch is not fully covered and about the back side being mesh and need to have the fly on. No issues here, just needed to know what you want
It needs small d-rings inside the ceiling to hang a gear Loft. Otherwise it's a very good family tent
This tent is amazing. We took a gamble on it. We never ised the tent before. Ordered it and headed to PA for a week long camping adventure. Easy set up! It rained everyday we were there. One noght it stormed and was lighting out. This tent held up AMAZING! We stayed completely dry. Fit two twin size mattresses and a queen size mattress . We could probably fit one more twin, but we were comfortable with the four of us. Loved, loved the screen porch area. Worked great for extra storage and a safe dry place to keep our German shepherd. He loved sleeping right next to us. I can't give this tent enough praise. We could have really had a bad experience if it did leak. This tent made our camping experience the best.
The tent is very spacious, very well made, stands up to high winds. Couldn't be happier with it. A great coleman product.
We just used our tent for the 1st time. It was perfect for myself, my husband and almost 5 yr old daughter. We had room for our 2 queen sized air mattresses and 3 weekender bags. We hung the lantern and had pockets for our flashlights & phones next to our beds. My daughter & friends played in the screened in front porch so we got barely any dirt/bugs inside the tent. My husband put it up pretty much by himself with assistance from a friend and it only took maybe 10 min! Can't wait to use it again!
We bought this tent two months ago, but only recently got to use it down in the Cascade Lakes area of Oregon two weeks ago. Firstly – it's big, spacious and quite light inside, even with the rainfly on. Assembly – fairly straighforward. Much easier with two, but if you were the sole, er, erector, it would still be possible to put it up in reasonable time. The porch area – this was the main reason for this purchase. More tents in the US should have a decent porch area with a bug screen. It makes perfect sense, so why are they so thin-on-the-ground? Tent manufacturers take note! I mentioned some design flaws, which may or may not be a problem for others: The porch area – yes, it's great, and very spacious in its own right, enabling two fully-grown adults to sit in comfort, and be (seemingly) protected from the mozzies (sorry, mosquitos) but: The zipping method for said porch means there is always a small gap at the bottom, through which insects can find their way inside. Some rethinking of the three-way zipper would probably reduce or fix this issue. In fact, it really needs only one zip with an oval opening. The interior door – it's a little small, and it would be better if it opened on both sides rather than one. The rear wall – this huge area of fabric is completely see-through (bug screen material), which means that, unless you pitch the rear in front of a large boulder or a screen of trees, you need the rainfly on for the sake of "modesty". Rainfly – can't speak of it's water repellency yet, but I think it would be better if the fly covered more of the porch area in the event of windblown rain. In fact, the slope of the porch means that rain will get in regardless. Erecting a canopy over it would solve this, but why should we need to do this when the tent should be designed in a way which mitigates against water ingress in the first place? Overall a good purchase, and for the money, probably one of the best available, but a few niggles as described, prevent me from giving it five stars. Also, have fun repacking it again!
This tent had leaks all over the place. Plus, whoever decided to make the screened patio slanted like that, didn't consider what would happen when it rained. Great idea, poor execution!