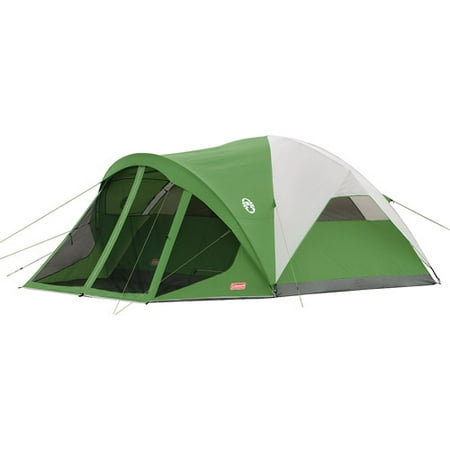 The Coleman Evanston 6-Person Screened Dome Tent is designed for easy set up and take down. It makes an ideal family tent with screen porch and comfortably sleeps six. This item has an exclusive Pin-and-Ring design, along with Insta-Clip attachments and has continuous pole sleeves and comes with a fiberglass pole. This Coleman Dome tent features four large windows for maximum ventilation. The porch is also wonderful to keep any other outside belongings overnight also and lets you relax outside with no worry of bug bites. The patented welded floors and inverted protected seams help ensure you stay dry. The snag-free, continuous pole sleeves mean you only have to feed the poles once, which reduces setup time. Before you lie down, attach the fly for protection from the rain. Coleman Evanston 6-Person Screened Dome Tent:
Tent
Capacity: sleeps six persons
Fully screened front porch area
Continuous pole sleeves
Exclusive Pin-and-Ring design
Insta-Clip attachments
Flysheet: polyester taffeta 75d
Inner tent: polyester taffeta 75D, polyester mesh 68D
Floor: polyethylene 1000D
Fiberglass pole dimension: 9.5mm
Specifications:
Center height: 68"
6 person tent overall dimensions: 168" H x 120" W
reviews
Perfect size and set up for up to 4 people.6 would be tight.easier than other tents to setup.
Only used once and it didn't rain so can't say how waterproof tent is. The zippers all functioned well and it was easy to set up. The screen room is plenty big enough for two chairs and a small table. I do wish the tent was a little bit taller. I'm 5,3 and could stand only in the center. Overall I am happy with the tent.
Love the screen house and very easy to setup, just didn't realize there is no cover for back window of tent….only have privacy if the rain canopy is in place.
An experienced camper here—mid 60's and have been tent camping since age 10. Have several high quality back pack size tents for motorcycle camping but wanted a family size tent for car camping with the grand kids. Spent several weeks researching before I selected this tent…searched all brands, but ultimately was sold on this tent because of the screen porch, overall ratings, and positive reviews on this site and others. Bought on line at sale price of $108 and free shipping to the store. Very well packaged. the tent and all other parts came packed into a box, then the box was packed into the duffle case, and the duffle was packed into another heavier box. Also purchased a 9×12 ground tarp—a near perfect fit, the tent over hung the sides 6″ and the front and back about 8″. In addition, bought 8 of the 9 inch nail type spikes for more secure hold in windy conditions…Folks, you just cannot rely on those little wire stakes that come supplied for any thing, except maybe tacking down the 'doormat' which comes with this tent. Did test run in my back yard…set it up for a full weekend, with rain in the forecast. By myself, the tent itself went up in 15 minutes…it took another 15 minutes to put up the rain fly cover, but half of that was spent untying the neatly rolled up guy lines. Overall the fit was snug but not overly tight. Full tub floor all the way around except for screen porch, 2 large mesh pockets in sleeping area, over head loop for a lightweight lantern, good zippers, lots of windows (including one in door and another beside door, and both sides. As noted in other reviews, the back window is half the wall and there is no zip flap but the rainfly completely covers it. The rainfly is nicely designed and overhangs the side windows to let air in and keep rain out. There are several velcro fasteners on the rain fly that allow you to fasten it to the tent's fiberglass poles, plus the guy lines and clips at 4 corners. Interior height? I am 5'8″ and can stand up straight in the center of this tent. Rain was forecast the first nite—I solved the wet porch problem but pulling up the 2 front stakes and pulling the porch floor next to the body of the tent. Rained 6 hours and no rain on porch or inside slleping area. Simple to exit tent and pull porch back out. The second nite it was not supposed to rain so I did not put porch away—there was a brief cloudburst that lasted 5 minutes…yes it got water inside the porch but the next morning it was easy to drain it out through the mesh drain in the floor. Again, not a drop in the sleeping area, even with all the windows fully open and unzipped. I am very impressed with the construction and quality of this tent. Well thought out, easy to set up with color coded sleeves and rods. Porch big enuf for 3 chairs or 2 chairs and a table…will be easy to add a tarp over the porch when items are stored there overnight. I used a queen and twin inflatable beds with room to spare. Great choice for 2 adults and 2 children…even a dog or two on the porch. Take the whole family, or treat yourself and one other person to a camping palace!
This is a great tent for the price. It was easy to set up and has plenty of room. My husband and I took it this past weekend and were very pleased with it. The instructions were a bit vague, but we figured it out quickly. The screen porch was just right for 2 chairs. It rained while camping and we were pleased with how well the rainfly did its job. I would recommend this tent to anyone wanting a good tent for a good price.
We, my 10 year old and I were able to setup the tent in 15 minutes. Very easy to setup. All the parts fit into the bag easily. Screen porch is the best convenience to leave shoes, umbrellas or anything extra. Walmart delivery was exceptional with no issues. Hoping to enjoy for many years to come.
I had reviewed and looked at many tents and decided to order the Coleman Evanston 6 person tent for 4 person use. There are several reviews on how much the products coming from Coleman are not the way they used to be and I was very cautious about it. Well, I had opened it a few days before we were to go out camping and, frankly, I was astounded on how such a big mistake was not caught during a simple quality control. What had happened was that, the top sleeve for the poles to go through was sewn into the seams of the tent right on the ridge. I tried several times to contact Coleman over the phone, it was a Monday, the line was busy all day long, not even a machine took the call. I filled a form online, sending them pictures of the defects and receipts, and got confirmation. After a couple of days, since I was not contacted at all, I had to call again to make sure they had received my request. They had in fact received the request, but they made me send in again all the info although what I had sent them was sufficient, and were able to see the pictures, they said it was not how they want it. By this time, days have passed and were closing to another camping date. It took forever the tent to come, it showed up days after we had left. Well, in retrospect, I should have sent it to the vendor and got my money back instead of contacting them directly as they had left a huge note inside the package indicating not do so. My problem is not only the obvious defect only and this is only a tent, what about those gas cookers and other things they make that could have severe result ? If this can happen, it is my guess it can be on other products too. Other than that, the tent itself is very good. It is fairly good for 6 but very comfortable for 4 people. It has enough outlets / inlets for air and quite high in the middle. Putting it together for first time took a little bit over 25 minutes (the defect made it complicated), but once that was sorted out, it shouldn't take more than 15 minutes. Also, you need to air out a new tent as always, it smells like some kind of chemical. We camped in an ideal weather and can't say much about rain and wind. Heat though, as any tent is, gets trapped and it can get hot in there.