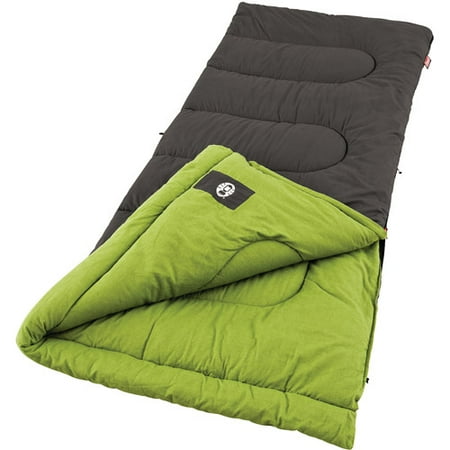 The Coleman Duck Harbor cool weather sleeping bag provides superior warmth for spring and fall overnight trips! This bag is comfortable down to 30 degrees! With four pounds of Coletherm insulation, you'll have no trouble falling fast asleep out in the woods! Plus, a comfy cotton cover and flannel liner make for an inviting feel on nights where the temperature starts to dip near freezing! It fits most body types up to six-foot, four inches tall. Coletherm insulation keeps cold out. Two like bags can zip together to create a larger sleep spot.
Coleman Duck Harbor 30-Degree Adult Sleeping Bag:
Made for camping temperatures between 30 and 50 degrees
3 lbs of Coletherm insulation
Cotton cover with cotton flannel liner
Zip Plow plows fabric away from zipper to prevent snags
Comfort Cuff surrounds your face with softness
Roll Control locks bag in place for easier rolling
Fiber Lock prevents insulation from shifting, increases durability
Thermo Lock construction reduces heat loss through the zipper, keeping you warmer
Zipper Glide tailoring allows smooth zipper operation around the corners
Storage: Wrap 'N' Roll system
Rectangle shape, big and tall 33″ x 75″, fits up to 6'4″ tall
Commercial machine washable
5-year limited warranty
reviews
Comfortable and warm. It was what I needed
Good size, arrived earlier than expected. Very nice for the price!
Everything we wanted. Zip together two bags, cotton inside and out. This size fits in our space, queen size.
Bought these for my boys. They are warm and comfortable! And they liked the color.
I'm an early shopper so when I found this on sale. had to order it. My grandson did not want the slick ployester outer shell because it slides around, so this one was perfect. Love the free shipping on it too! Thank you!
Very nice sleeping bag.Comfortable. Wish it had a separate bag.Bag is attached and difficult to put back together.
This is a well made bag and I like the fact that it's made with cotton, not polyester. Great value for the money!
I knew from other's comments that the size was smaller than advertised and that should certainly be corrected in the specs, but the bag otherwise is good for my use. I purchased it for my grandson. I know from past experience that kids and nylon shell sleeping bags is a bad combo. They slide off the bed in a camper or into the slide of the tent. Also, cotton flannel inside holds up way better than a poly flannel-like material. This bag has cotton on both the inside and out.
THIS PRODUCT IS ALL COTTON CLOTH AND I MAY BE ALLERGIC TO THE FLAME RETARDANT ADDED TO THE COTTON CLOTH. YOU TAKE YOUR CHANCES BUYING THIS PRODUCT, BUT I NEVER HAD ANY ALLERGY TO THE NYLON AND THIS WAS MY FIRST COTTON SLEEPING BAG.
Coleman Duck Harbor 30-Degree Adult Sleeping Bag: Made for camping temperatures between 30 and 50 degrees3 lbs of Coletherm insulationCotton cover with cotton flannel linerZipPlow plows fabric away fr...