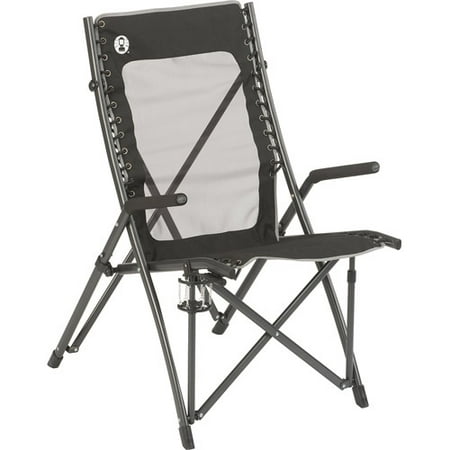 Enjoy the fresh natural environment as you unwind in the Coleman ComfortSmart Suspension Chair. It features a durable and sturdy steel construct that can support up to 300 lbs. This outdoor folding chair comes with a flexible bungee suspension system that provides superior comfort. The use of nylon mesh fabric allows the breeze to cool your back. This feature comes in especially handy if you want to remain seated for a longer stretch of time. Enhancing the comfort of this Coleman suspension chair is its drink holder that can accommodate a can, a bottle, a wine glass or a coffee cup. Sip your favorite drink as you relax amidst nature. You can easily fold and unfold the Coleman ComfortSmart Suspension Chair. Its compact, lightweight design also lets you store and carry it with ease.
This chair fits comfortably inside the polyester carry bag included with it. You can also keep it inside the trunk of your car for easy access. This outdoor folding chair is an excellent choice when you are out camping with your friends and family. Make it a part of your next outdoor adventure and relax wherever you want.
Coleman ComfortSmart Suspension Chair:
Innovative, flexible suspension system for superior comfort
Nylon mesh fabric allows the breeze to cool your back
Drink holder fits a can, bottle, wine glass or coffee cup
Steel frame folds easily for convenient storage
Coleman suspension chair holds up to 300 lbs
Polyester carry bag included
Limited 1-year warranty
Imported; made in China
Folded dimensions: 9.8″D x 11.8″W x 46.1″H
Unfolded dimensions: 16.9″D x 22.4″W x 40.6″H
Model# 2000010030
reviews
The chair very comfortable and it would be perfect if my coffee cup would fit in the drink holder. A beverage can or narrow drinking cup will fit, but you'll have to hold on to your coffee cup. I marked that I would recommend this chair, but it depends on how important it is to be able to set your mug down if you don't have a table close by, like when you're outside camping.
Most comfortable outdoor chair of its type we have ever owned. Only drawbacks are the arm height (they are just a little too high) and the cup holder is undersized for most items.
Well made. Comfortable for larger people. Easy to take to sports events. I am very pleased with this chair.
These have to be the best portable chairs ever. One feels as though you are truly suspended in air. The high backs are certainly a plus feature. One thing everyone should be aware of – the higher backs also mean that the overall chair length is increased when folded up for transportation.
Just getting over a big back surgery I was in need of a comfortable supportive camp chair. This chair is awesome. Supports your back, easy to get in and out of and just super comfortable. Best chair ever had for sitting around camp or in the yard. Would be nice if had a higher back but all the other attributes puts this in the background. Ordering was simple. Picked up at store so no shipping. You won't be disappointed in this honey of a chair.
These are great chairs. Better than other bag chairs because you don't get swallowed up by the saggy seat. These have a firm seat yet flexible with the suspension design. I would highly recommend!!
Poorly constucted, loose parts, pads on armrests poorly attached (one goes all the way to the end, while the other stops 3 inches short of the end of the arm). I had to buy this chair to replace the one that only lasted 4 camping trips, but because it was 12 days past the warranty expiration, Coleman would not replace. In order to be reimbursed for the broken chair though my VISA extended warranty, I had to purchase the exact same chair again. I will be avoiding all Coleman products in the future due to their substandard quality and terrible customer service.