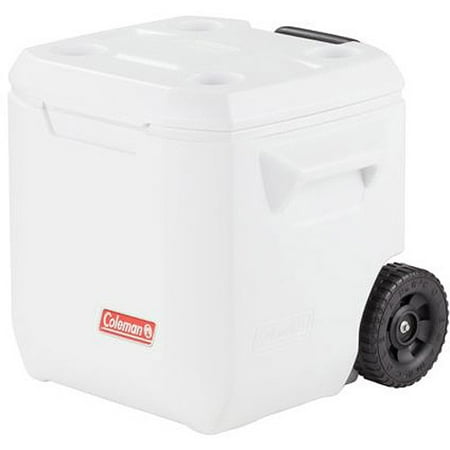 Take the new, stylish performance of a Coleman 40-Quart Wheeled Cooler with you on the boat. While your friends revel in the sleek new look, you'll enjoy the added improvements that better fit your lifestyle. The redesigned 40-quart cooler is tall enough to hold two-liter bottles upright and large enough to hold up to 60 cans. The four molded cup holders help prevent spills, and the Have-A-Seat Lid supports up to 250 pounds so you'll always have a place to sit and rest. Heavy-duty wheels offer all-terrain transports and a long telescoping handle makes pulling the cooler more comfortable. Inside the cooler's walls, extra ThermOZONE Insulation and Xtreme Technology holds the cold for four days in temperatures up to 90 degrees Fahrenheit, and still performs amazingly on hotter days.
Coleman 40 qt Xtreme Marine Cooler:
The all-terrain cooler holds 60 cans, more than 3 cases of soda fit inside a 40 qt cooler
New, stylish outer casing
Long, telescoping handle and all-terrain wheeled cooler handles loads with ease
The Coleman Xtreme Marine Cooler features side handles for controlled carrying
4 molded cup holders keep drinks close
Have-A-Seat Lid supports up to 250 lbs for a place to sit and rest
Retextured EZ-Clean top for quick, easy washing of the Coleman 40-Quart Wheeled Cooler
Xtreme 4 Technology keeps ice up to four days in temperatures up to 90 degrees Fahrenheit
ThermOZONE Insulation contains no CFCs, HFCs or HCFCs, which deplete the ozone
UV-color additive helps prevent yellowing and weakening in theColeman Xtreme Marine Cooler case
reviews
Great cooler. Held ice three times longer than my cousin's Yeti!
Very good cooler. Traveled the east coast 10 days wheeled in and out of all hotel. Kept ice on average 3 days tops. Wheels are perfect size. Held up to roll over curbs
We were looking for a medium sized cooler that was lightweight and easily portable. This cooler is the perfect size for a small family. Easy to carry by one person or you can roll it. Very happy we purchased this cooler. You can't beat the price. It is not a Yeti but at 10% of the price it is worth it.
Great size – holds several cans. Purchased to use at beach. Extra long handle made it easier to pull across sand. Kept ice a few days – although I did add more daily. Has drain plug.
This cooler is the perfect size for travel sports not to big or small, keeps food and drinks cold , has wheels and you can sit on it !
This cooler is the right size to hold an entire picnic diner for two. The portability allowed us to carry extra items with the use of bungee cords and it's small enough to pass through the turnstiles of the DC Metro. I purchased this for Dîner en Blanc and it was perfect!
This cooler does a very good job of keeping the contents cold. The wheels seem study, the handle, not so much. The fit and finish of the one I purchased was below average.
Be careful, Walmart ships these by slapping a shipping label on the cooler itself!! No Nox, no plastic wrapping, nothing. It arrived scuffed up on all sides and the metal tubes that hold the luggage extenders had a bunch of dents in it. This is going back tomorrow. Very disappointed. From what I could tell though, the cooler itself looks like it'll do as described, but I can't use it to give a proper review.