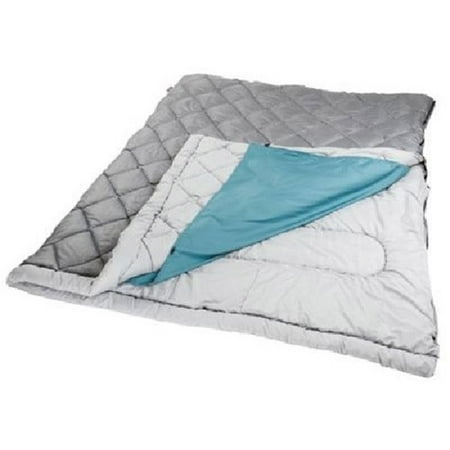 Fall asleep surrounded by the luxury and warmth of the double-sized Coleman 35D tandem sleeping bag. Showcasing ComfortCuff technology, this oversized sleep solution provides some of the best features you could ask for while you are on your next outdoor adventure. Designed for cozy sleeping for up to two people, the brushed polyester lining keeps you both comfortable while you sleep. A no-snag ZipPlow zipper prevents snagged fabric as you zip or unzip for added convenience. Packing up and transporting is also easy with Coleman's Roll Control system. The Coleman sleeping bag is a great choice for use when the temperatures range between 30 degree and 50 degrees Fahrenheit. With the ability to zip apart to create two separate bags, it offers exceptional versatility. It is designed to hold up use after use, all while keeping you protected from various outdoor elements.
Coleman 35D Tandem Rectangular Sleeping Bag:
The Coleman sleeping bag is a good choice for using with temperatures 30 degrees F to 50 degrees F
Designed for two people up to 6'2″
Zips apart to create 2 separate rectangular bags
reviews
Exactly as promised. A bit of a struggle getting back in the carry bag but it fits quit well.
No more pulling and tugging the sleeping bag to turn over. Wide and long bag accommodates my restless sleep habits.
Brought this item for use in my RV. So much better than making up the bed with sheets and blankets that kept sliding away. Stays in place because sleeping on the bottom section anchors all in place; cozy and roomy.
This sleeping bag kept two of us quite warm in Yellowstone when temps dropped into the mid 20s at night. It's only rated as a 45 degree bag so we did add an extra blanket on top just in case. I'm not sure I like the inner sheet that is included – we found ourselves twisted up in it a couple times. Overall though, we were both satisfied with how it functioned and the price was great too. I especially liked that it unzips from both sides so neither party is stuck without a way out in the middle of the night. I did quite a bit of research on tandem sleeping bags and this one didn't disappoint. Looking forward to our next camping trip!
Super warm and plenty big for 2 people. I have a vanagon and it's just slightly smaller than a full sized bed. This overlaps the pad by about 4 inches on either side. I can't decide if I love the inner sheet or if it's annoying. It can be removed. But the good thing about it is that it keeps the lining of the sleeping bag from getting too hot. Bad thing is that it can bunch up and the bottom. So far that hasn't bugged me too much.
The Coleman 35D bag is well designed and made. We wanted a quick roll-out for a n opened sofa bed, but this bag proved too warm for a house with an ambient 69 degrees. It could serve as two comforters, or two separate sleeping bags.
This is a good sleeping bag for warm weather. Plus: Good zippers! Good that you can zip it open on both sides My husband and I are 5'8 and 5'9 and it was big enough for us.
We took this camping last weekend and it was exactly what I wanted. It fit me, my husband and our two yr old in it! Temps got to the upper 50's and we stayed warm. The sheet inside is nice too.