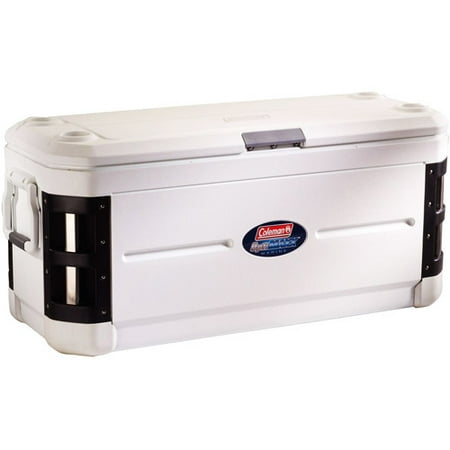 Keep your drinks cool on your next camping or boating trip with the Coleman 200-Quart Optimaxx Cooler. Its compact build allows for hassle-free transportation and storage. Though it is smaller in size, it spacious interior holds up to 327 cans, so you'll have little trouble packing up plenty of beverages for the entire group. The Coleman camping cooler has UV and infrared reflection color additive, which protects it from harmful rays. It also contains an antimicrobial liner that prevents the growth of microbes as well as mold and mildew. Designed for rugged use, it features stainless steel hardware and spring lid strap. The threaded drain with drain valve makes maintenance easy. Self-draining cup holders present on the lid make it easy for you to keep your drinks within easy reach. The lid also has a tray wherein you can keep small things. You can keep ice for nearly seven days in the 200-quart cooler.

Coleman 200-Quart Optimaxx Cooler:
Great for camping, tailgating and more
Holds up to 327 cans
Antimicrobial liner to prevent mold and mildrew
UV/IR reflective color additive
Stainless steel hardware
Stainless steel spring lid strap
Tray with lid include
Self-draining cup holders
Holds ice for up to 7 days
The Coleman camping cooler has a threaded drain with drain valve
Model #6499-799
reviews
I will be using this well-made strong cooler as a fish box it also has a separate tray to hold your food and drinks above the ice
I'm a cooler fanatic having every size for every occasion and purchase the best cooler I can find in each size class because I take long trips. Bottom-line this cooler will put all my other coolers to shame! Just got back from an 11 day trip with this cooler and the ice was still 3/4 frozen. I've taken 8 day trips with it and the ice never melted at all! However, I make my own ice in large blocks and open the cooler as little as possible. In short, if you want or need extreme duty, this is the right cooler.
My mom loves the cooler. That's all I needed to hear.
Used it for a 4 day camping trip and opened it and closed it a fair amount but it still held the ice the entire time and could have lasted longer. Highly recommended!
Everything I expected and more.plenty of room for extra ice,Shipping was free and was here in 2 days. Thumb's up
We filled this cooler with ice and took it to Colorado with us this Summer. We stayed for two weeks and we never had to buy more ice. In fact, we dumped what was left of the original ice out when we got back. Although the temperature cool at night and low 80's during the day, it is still impressive that it kept ice for over two weeks.
Label states it keeps ice for 6 or 7 days – just not true. I used the cooler for a backyard party. Filled it with ice & water bottles the day before, by the next morning ice was melting already. I still like the size for family camping and would recommend it for it's size, but don't expect the ice to keep as long as stated.
Never left the store with it. It was damaged. Still waiting for my credit to post to my card
Coleman's Optimaxx XP H2O 200 Quart Marine Cooler is everything you could need out on the water for years to come. Featuring a 200 quart capacity with enough space for 327 12-ounce cans, the Optimaxx ...