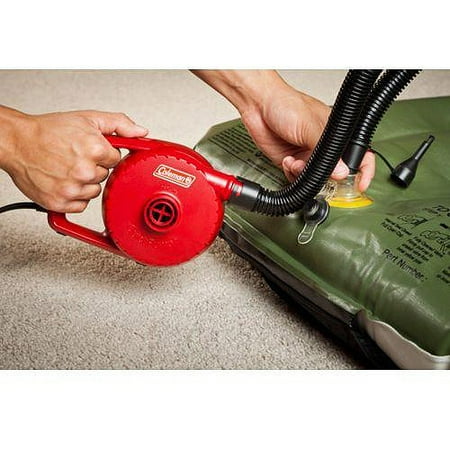 Quickpump 120V Pump
Pinch valve adaptor
Fill most common inflatables
Double lock/ Boston valve adaptor
Inflate airbeds and other inflatables
Extension hose
Flexible design for convenient use
120V Plug
Power the pump from any home outlet
Coleman 120V Electric Portable Pump:
Quickly inflate or deflate virtually any airbed or inflatable
Powerful enough to inflate a queen double-high airbed in 2 minutes
Hose valve for inflation at nearly any angle
120V pump plugs into home outlets
Added adapters for Coleman Double Lock Valves, Boston valves or pinch valves
Limited 1-year warranty
Directions
:
Instructions: . For Household / Residential Use Only
reviews
Great pump. It fills up air mattresses very quickly.
Worked lot better than doing by hand. Still has a slow air flow so it takes a few minutes but compact & easy to use
Excellent pump for blowing up air beds. I have a king size air bed and the Coleman Pump filled it very quickly
This pump is great! I just blew up a full sized Intex mattress in 5 minutes. Deflating it worked even quicker too! Please note: you may have to unscrew the plastic valve cover off your mattress, and use the pointy tip on the pump (it comes with 2 tips). The reviewer saying it doesn't work with a plastic valve cover is not correct. We had a cheap pump that ran off the car cigarette lighter. It took forever! And the motor actually blew and and damaged the wiring in the car. I recommend this pump!
I've used several different pumps in the past for blowup mattresses. Many seem to take forever. This thing can inflate a standard twin size mattress literally in seconds. I didn't use the pump to deflate the mattress simply because I forgot it did it, but I can only imagine it works just as well the other way. Super simple, yet highly powerful design. Highly recommended.
While I'm not sure how long this pump will last, I'm very happy with it's powerful air output and for the money I think it's a bargain!
I use this to blow up our inflatable pools and inner tubes, and it only takes a couple of minutes. I am buying one for a friend after they told me their air mattress pump takes them over a 1/2 hour to inflate a twin mattress!
I needed this to blow up a large exercise ball and thes Coleman 120V Electric Portable Pump passed the test with flying colors. Had I attempted to use the "pump" provided with the ball, I would have simply returned it. I know that this pump will allow me to pump up air mattresses, footballs and any other item I may need. For the cost it is a bargain for what you get.
Started to slowly stop working and wouldn't fully fill my mattress, now it doesn't turn on anymore. Only had it for 2 months and used it less than 5 times before tHis started happening
Use this 120V Coleman Pump to inflate or deflate almost any airbed from nearly any angle. Operating this pump is easy; simply plug the cord into a standard outlet and fit the pump to the air opening o...