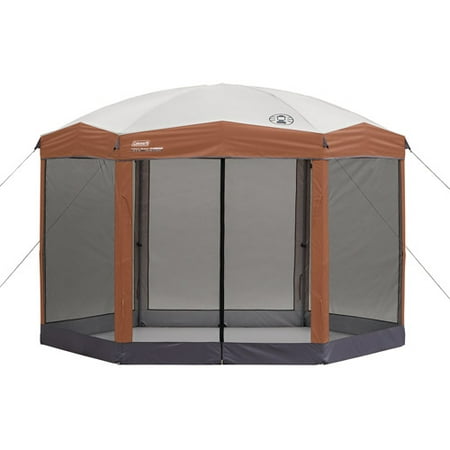 The Coleman Back Home 12'x10′ Instant Screened Canopy provides immediate shelter in your backyard, campsite or outdoor event. It is very easy to set up and takes less than three minutes to assemble. This 12′ x 10′ canopy provides optimum protection from the sun and other outdoor elements. It comes with an accessory screen that protects you from insects and dust. Featuring the 50+ UVGuard protection, this Coleman screened canopy shields you from harmful UV rays. This screen features two zippered doors that make for easy entry or exit. The footed poles of this 12′ x 10′ canopy provide optimum stability and guard against wind. Further, the Coleman steel tent pegs provide excellent ground penetration to keep the canopy firmly affixed to the ground. The Coleman Back Home 12'x10′ Instant Screened Canopy comes in a wheeled carry bag for easy portability.
Coleman Back Home 12'x10′ Instant Screened Canopy:
Easy to set up
Coleman screened canopy sets up in less than 3 minutes
Tall center height, over 8′ high
Accessory screen included, protects from insects and provides additional shade from the sides
Screen has 2 zippered doors for simple entrance and exit
Shelters provide over 120 sq ft of shade
Simple, exclusive Coleman push button release levers
50+ UVGuard protection factor
Heavy duty 150D canopy
Wheeled carry bag
Footed poles for easy securing, more stabilization
Coleman steel tent pegs
reviews
Looks sturdy and was not too bad setting it up. Certainly worth the money.
It was easy for my husband & I to put up in about 20 mins. The locking clips much easier to use than previous push button pins for leg extensions. The screen has a bottom edge skirt that extends from the bottom of tent. It will easily block out bugs, critters & water. Love the carry bag with easy to roll wheels & separate compartment for screen & roof & pegs. The pegs are heavy duty long nail type not cheap little things that bend. This is a must have for camping & great for the yard parties! We bought it to use with our RV.
The screen room is very easy to set up and fits together very well. Let's wind blow through but does keep mosquitoes out. We have experienced pretty stiff winds with no problems to the screen. Also rain has been no problem.
Pros: Sturdy made of good quality material. Spacious, shades well. Screen keeps bugs out and goes all the way to the ground. When properly staked will withstand fairly strong winds. Excellent buy for the price. Cons: Will leak in rain storm. According to Coleman, not waterproof. Not really instant up. Takes about 30 min with screen & staking. Heavy, about 45 lbs. but storage bag does have wheels. Need a 4 ft. by 1 ft. space to transport.
This tent is going to be our exercise and stretching tent for a combination Pilates and yoga. It will be set up at our campsite at Big Lake. It is a little heavy but that's okay because the wind coming off the lake and the storms that are prone to that area have ruined our other screen tent from years back. I have not yet set it up butt from the online videos and ratings this appears to be just right. Shopping on Walmart.com was easy simple and competitive. Thanks Walmart and Coleman products.
This is a great screen house and does go up within 20 minutes. The down side is the next day when it rained and I thought I was going to stay dry, it started leaking and dripping on me. So yes, great product except in the rain. Which I bought it to be able to be protected from snow and rain.
We bought an inflatable Hot Tub (Canadian Spa Corporation) because we want to use it in the winter here by Yosemite. Our backs, knees and feet really need the pain relief it provides. It doesn't snow but has hailed a couple times. We wanted to have a bit privacy as well as protect the hot tub from the sun and leaves and our kitty cat who just might decide to use it as a scratching post. It works beautifully! It is so tall inside and we want to put some battery operated lights inside on the roof. It makes our hot tub feel like we're in a spa. I added a couple of hanging pothos (not real) in corners and a bunch of peacock feathers in a vase. We want to create our own sanctuary I put my tablet on my you tube station of spa & relaxation music, and relax or meditate or pray. I love the privacy it gives while allowing you to see 360′ through the screen. We are also lovin our Rio Grande Spa with this great looking screen gazebo. You won't be sorry. I looked everywhere and this one was the nicest! Wouldn't you know it; the first time we went in which was Thanksgiving day, our kitty hear us in there and jumped up and landed on the ledge.. guess he thought it had the top on. LOL. My hubby tossed him out the screened door and we laughed. So much for trying to keep a curious cat out of places.
The carrying bag arrived with missing and defective stitching. Called Coleman, sent pictures. Assumed they would send a replacement bag. They sent a package- which hasn,t arrived yet- that weighs 1/2 pound … Apparently it is glue. If I am correct, the whole product goes back to Walmart. Terrible warranty service by Coleman.