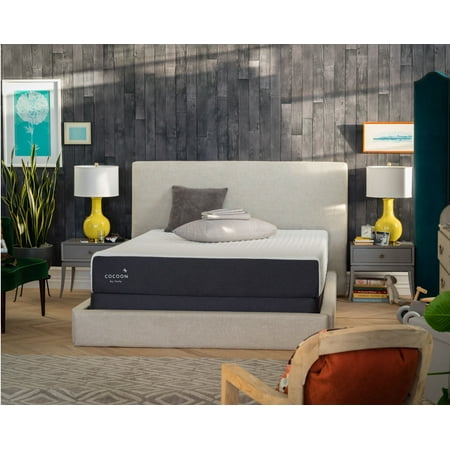 Cocoon Classic Soft Mattress – Transform your bedroom today with Cocoon by Sealy, a Soft premium memory foam mattress with comfortable, innovative layers that will enhance the way you rest. A soft stretch-knit cover with spun poly fibers is designed to be breathable to help keep you cool and durable to protect your mattress. The Perfect Fit Memory Foam layer gives you a higher quality and higher density foam that will cradle you as you sleep while the strong, resilient Comfort layer and Support layer provide the essential, supportive base that your body needs to relax. The Cocoon by Sealy is delivered right to your door in an easily moveable box so you can maneuver your mattress into the perfect position. Backed by a 10-year warranty, Sealy is recognized as one of the industry's top manufacturers of mattresses for 130 years. Cocoon by Sealy will transform the way you sleep.
Cocoon Classic Soft Mattress, Multiple Sizes:
Our Premium Stretch-Knit Fabric Cover with spun poly fibers is breathable and durable with a soft feel
Higher-quality, higher-density Perfect Fit Memory Foam will adapt to your body size, shape, and sleep position
Our Essential Support Foam, engineered with heavier, more robust materials, offers the support your body needs to relax
With the added Personalized Comfort Soft Foam layer, the mattress provides a cozier, "in-the-bed" feel
Cocoon by Sealy ships in an easy-to-move box for hassle free delivery to your front door
Twin dimensions: 74.5″L x 38″W x 10″H
Twin XL dimensions: 79.5″L x 38″W x 10″H
Full dimensions: 74.5″L x 53″W x 10″H
Queen dimensions: 79.5″L x 60″W x 10″H
King dimensions: 79.5″L x 76″W x 10″H
California King dimensions: 83.5″L x 72″W x 10″H
reviews
I enjoy sleeping on the new Cocoon classic soft mattress. It is a great size and feel, but it is heavy. The height of the mattress allows you to not have a box spring under you mattress. Enjoy your new mattress.
First let's talk about the box that it came in. Yes it comes in a box all rolled up inside the box to make it easier to move into place, which is a nice feature. However the box was black and some of the black rubbed off on our skin and our carpet. Now for the mattress, it was listed as soft and it is softer then our previous memory foam mattress, which was to firm for us. However still not as soft as we were hoping. Overall though this is a very comfortable mattress. I would recommend it.
This is absolutely the best! Worst part was carrying it to the bedroom as it weights 100 pounds! My daughter and I wrestled it and put it on and realized it's an actual mattress. With that said we had to remove it get the old pillow top off and lay it back on. Then we both immediately went into test mode. We said it was so comfortable! I would love to put this on every bed I sleep on! Super product! Just remember to have a couple of strong men to help you move it! LOL
This thing is unbelievable! Easily the most comfortable mattress that I've ever owned. Now, this has been a blessing and a curse because I'm sleeping better than ever but on the other hand I'm also sleeping later than ever cuz I just don't want to get out of bed! Lol, The name "cocoon" is perfect because it wraps snugly around your body no matter what sleeping position you are in. The makers of this mattress have developed new production methodologies that will greatly increase the narrative flow of your sleep patterns, It's efficient construction leaves your muscles and joints entirely refreshed and relaxed and will recharge the batteries of your artistic soul. And it is also a great looking piece with modern day symmetry and corners that will appeal to any taste. The only beef that I have about this unit is that it is not as easy to install as they make it out to be, it comes out of the box in a sort of awkward position and the "Guide Stickers" are not in sync with the actual removal of the protective plastic wrap. Also, it says that you do not need any sharp object to remove the wrap, well on the mattress I received I would never have been able to remove the wrapping without scissors because there was an extremely thick double wrapping underneath. Although I will agree that the 30 minutes suggested that it will take for the mattress to fully expand is just about right, but I personally think you should wait a little longer than that so you will get the full effect the first time you sit or lay on it. All in all, I could not be more happy with this unit, of course only time will tell what its durability will be like, but knowing what I know now by all means you should make this purchase. Thanks for reading, and I hope this helps.
This came to my house in a 5 foot box vacuum packed with all the air sucked out. I did not know how it would arrive so I was amazed at how they got it into a smallish box. it was rolled up like a taco too and folded in half. I thought this is not going to work. But when I cut a small hole in the plastic I heard air escaping and the bag began to expand like one of those blow up canoes. My son is eighteen and he helped me get it on the bed and it is very soft but not so soft it sags. it conforms to my shape and I am a heavy set person. I was not sure if I could take it being so soft but it has been comfortable. the lining on the mattress is very soft to the touch and has a cool feel to it. The look of the mattress is nice too it is called a sealy cocoon which is cute. I got this through the spark review program and have been very pleased with it so far. Thank you Walmart and Sealy! Quality and design are great initially but the durability of this mattress is not known to me since I have not had it a long time. The design is nice and has a modern feel. Ease of use is an idea that seems straight forward…but as I have stated it comes in a box and it was somewhat difficult to get his on the bed. my son fell into the bed with the mattress on top of him trying to maneuver this big thing around the bedroom. LOL Just saying delivery and set up people are the best invention in the world!! We love you guys. THIS mattress did not come with set up and delivery. UNFORTUNATELY! The price is average for a mattress. I looked it up online.
I have Fibromyalgia and Lupus and by morning in my old bed I would be in agony. I did not have very high hopes for this Cocoon mattress. I figured after a couple nights testing I would go replace it with my old mattress. To my surprise, here I am a week later still sleeping on it. Even more important, my husband is able to sleep next to me again. He would lay next to me in the old bed and pretty much be right on top of me. With the Cocoon he is just laying next to me and the bed supports us both side by side very well. This bed is a keeper. If you have back pain in the bed you are in now. I highly recommend you give this mattress a try. This is not a high priced, high end bed, and it may not last more than a few years, but that's ok. My high priced, high end bed didn't hold up either. So if you are on budget, and need a nice bed I'd give this one a try. Yes I received this bed for my honest review, and if you have seen any of my other reviews you know that's exactly what you are going to get. When we took the bed out, I thought oh Lord this does not look a good review in the making. I am sure glad I was wrong.
This Sealy crib mattress offers 150 coil firmness and lasting comfort for your infant or toddler. thick hypoallergenic comfort layer reinforced cover and binding resists liquids and stains and wipes c...