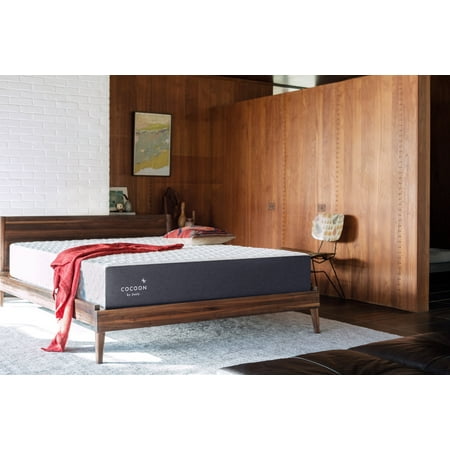 Cocoon Classic Firm Mattress – Transform your bedroom today with Cocoon by Sealy, a Firm premium memory foam mattress with comfortable, innovative layers that will enhance the way you rest. A soft stretch-knit cover with spun poly fibers is designed to be breathable to help keep you cool and durable to protect your mattress. The Perfect Fit Memory Foam layer gives you a higher quality and higher density foam that will cradle you as you sleep while the strong, resilient Comfort layer and Support layer provide the essential, supportive base that your body needs to relax. The Cocoon by Sealy is delivered right to your door in an easily moveable box so you can maneuver your mattress into the perfect position. Backed by a 10-year warranty, Sealy is recognized as one of the industry's top manufacturers of mattresses for 130 years. Cocoon by Sealy will transform the way you sleep.
Cocoon Classic Firm Mattress, Multiple Sizes:
Our Premium Stretch-Knit Fabric Cover with spun poly fibers is breathable and durable with a soft feel
Higher-quality, higher-density Perfect Fit Memory Foam will adapt to your body size, shape, and sleep position
Our Essential Support Foam, engineered with heavier, more robust materials, offers the support your body needs to relax
With the added Personalized Comfort Firm Foam layer, the mattress provides a sturdier, "on-the-bed" feel
Cocoon by Sealy ships in an easy-to-move box for hassle free delivery to your front door
Twin dimensions: 74.5″L x 38″W x 10″H
Twin XL dimensions: 79.5″L x 38″W x 10″H
Full dimensions: 74.5″L x 53″W x 10″H
Queen dimensions: 79.5″L x 60″W x 10″H
King dimensions: 79.5″L x 76″W x 10″H
California King dimensions: 83.5″L x 72″W x 10″H
reviews
I received a firm queen size Cocoon by Sealy. This mattress is easy to lift. I did not expect that once the bed fully expanded. The memory foam is very firm as well as thick but soft (not too soft) just the way I like it. My old mattress was firm and I put a 3 inch memory foam topper on top of it which helped but did not last. I have a feeling this mattress will last. I have only slept on it twice and truly enjoyed my sleep both nights. I slept peacefully. Before I got this mattress I would wake up with either neck or back pain. Since I've slept on this mattress I haven't had any pain. I need support but at the same time I don't want to feel like I'm sleeping on bedrock. This Cocoon is exactly what I wanted. The only thing you can not do is sleep on the other side of the mattress. What I have done in the past with my old mattress every so often is flip it over so it would not become indented. I tend to sleep in the same place and the mattress usually sinks in a little after awhile so flipping it onto the other side would help. I'm not sure if I will have this problem with this mattress but it would have been a nice feature to sleep on both sides. Also I put this mattress on top of my old mattress (view pictures). Although I'm high up off the ground it works fine. The mattress doesn't move. I thought I mention that just in case it was something you were thinking of doing. Overall I love this mattress and I have found it hard getting up the past two mornings since it's so comfortable…lol
The mattress arrived in a good size box, however considering what the normal size of a King size mattress is, this was super compact. It is somewhat heavy, but again compared to a regular King size mattress it's comparable. the real plus is that is so compact, and so much less bulky than a regular size king size mattress. When I purchased my previous mattress, it took 2 good size men to deliver it. It had to go upstairs to the second floor bedroom, so there was some bending getting it up the stairs. The Cocoon Classic mattress is so compact, it easily went straight up the stairs. I opened the box, and then the mattress to let it expand, which went pretty smoothly on top of the bed platform bed frame. Then I slept on it. It was great!!! I had some problems with getting hot with my previous "upscale" foam mattress, and it also sagged and didn't re-expand as it was supposed to. So far, with the Cocoon I have not had any of those issues. I get a good night's sleep…and that's what counts.
This mattress came at just the perfect time. I had wished to replace my daughter's old one. She could wait to try it out. It came compressed in an easier to handle package that took only myself to get upstairs. Easy to remove from box and with a few snips of a scissors the wrapping came off. The first night in it my daughter said it was perfect. She said her waist and hip area felt the best relief. She said the firmness was just right and she said it gently hugged her body. She weighs close to 170 lbs. The only slightly get draw back I'd have to say was it's firmness makes it a bit of a struggle to get a fitted sheet on. Her bed is tucked in a corner so I had to struggle a bit.
The Sealy Cocoon is the best mattress I have ever slept on when you get into the bed you sink down and it holds you in comfort. The set up was very easy, you just position the bed and carefully cut the vacuum sealed package, the bed puffs up very quickly. The only drawback is that it is very heavy and keeps in a lot of heat. It came in a matte black box and was vacuum sealed. The difference between this mattress and an innerspring mattress is with the innerspring you can feel pressure at every point that your body makes contact, it pushes against you. The Cocoon doesn't push against you, it just cradles you without putting any pressure on your body so you don't have to re-position constantly. I feel like I fall asleep faster with this mattress and I don't wake up sore and stiff in the mornings. I would recommend this mattress to anyone looking for an alternative to an innerspring mattress.
This mattress arrived in a box, and we were skeptical as to how good a boxed mattress could be. (If it doesn't work for potatoes, would it work for a mattress?!). Well, almost 2 weeks in and we love this Cooccon mattress! Let me preface this by saying that I love a firm mattress and my fiance loves a soft one, and this manages to keep us both happy and well-rested. We got the firm option, and it gives good support but has a gentle give that keeps it comfy. On previous mattresses we've used a feather bed, egg crate, gel foam pad, etc, but those things aren't necessary with this one- we're happy with just a good mattress pad underneath.
The Cacoon Classic Firm Mattress by Sealy is an excellent twin bed for children and teenagers. It is extra long and my 6'3″ grandson fits in it very comfortably. The bed is very comfortable and gives a great night's sleep. It is Firm but has the give of a good memory foam mattress. It is just the right size and firmness for a good sleep. The mattress is rolled up and vacuum packed for a package that is manageable by a single person. No need to get a friend to help you set up your mattress. When unpacked it was easy to get the plastic off and the air quickly puffed up the bed to normal size. This mattress is a joy. It can be used on a foundation, or directly on the floor for the occasional visitor. I was very positively impressed with the mattress and would recommend it to family and friends.