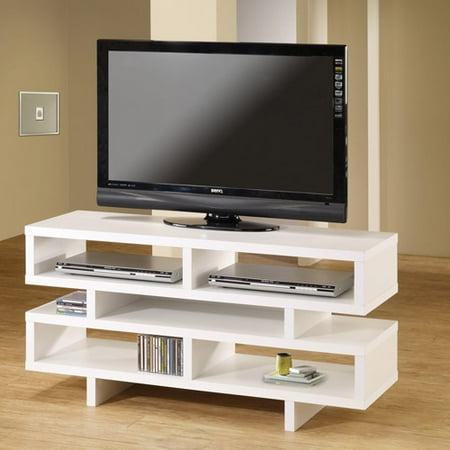 Build an entertainment center in your living space around the Coaster White Organize TV Console for TVs up to 46″. It comes ready to assemble and offers multiple open shelves for organization. This Coaster TV console helps to keep your media discs tidy and organized and also accommodates your DVD players, game systems and other components. The modern design coordinates easily with your decor.
Coaster White Organize TV Console for TVs up to 46″:
White finish
Ready to assemble
Accommodates TVs up to 46″
Accommodates TVs weighing up to 88 lbs
White TV console has separate compartments for organization
Open storage space
reviews
Easy to put together.
This was just what I wanted. Great value too
I totally love this Tv Stand. Assembling this tv stand was not hard at all and was done all by myself! It is very sturdy and not cheap AT ALL. The recommended size for the tv is nothing larger than a 46″ but I have a 48″ and its sits perfectly! Follow the directions and you will not go wrong! I give his a 10!
ACME Merivale White TV Console for Flat Screen TVs up to 46":Fits most flat panel TVs up to 46"Rectangular TV stand4 drawers2 open media compartmentsPre-cut hole for cord managementTelevisions sold se...