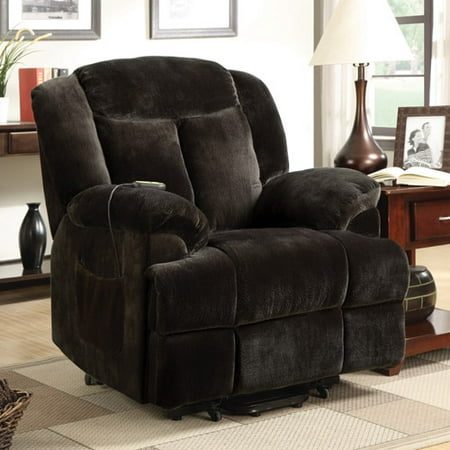 This Coaster Padded Back Power Lift Recliner in textured velvet gives you extra comfort and support. Sink into the padded back and armrests for a night of relaxation. This living room recliner also features knock-down legs and provides a smooth motion. It matches many styles of décor and makes an ideal addition to your entertainment area.
Coaster Padded Back Power Lift Recliner:
Lift recliner
Padded velvet
Knock-down legs
Model# 600173
Chocolate brown velvet recliner
reviews
My husband has multiple sclerosis and I have arthritis in addition to just having had rotator cuff surgery. My husband has a hard time getting up and down out of regular furniture and I have a hard time sleeping in a regular bed, so this is perfect for both of us. It is not only a recliner but also a lift chair which is perfect for us. Besides – you can't beat this price! I brag to my friends that we basically got a 2-fer because the price for two of these beauties is the normal regular price (or more) for just one. The only complaint I have, and it's not really a complaint, more of a minor inconvenience is that it is very slow to rise, which when you need to get up quickly (like having to use the restroom). Other than that – I am so happy to have found these! Besides all of the above, they fit perfectly in our living room!
We bought this chair for my Mother in law who is experiencing problems with her legs and needs to have them elevated. She prefers to sleep in a chair rather than a bed and this chair will allow her to do that comfortably. It's easy to assemble and a good value for the money. I would recommend it to anyone who has a loved one experiencing leg issues.
it the woks great mom love it lifts her out of the chair puls loves the cloros it is so comfortable thanks
We bought this chair for my dad. He is a stroke patient and has had a few other chairs but this was his absolute favorite. He said its really comfy compared to the others he had.
Some other family members & I bought this chair for my elderly grandfather. He loves it…it's very comfortable and plush, yet also supportive. The lift mechanism works great – raising him to a position that's easy to get up from. Since it will stop and remain at any point, he can change his tilt position throughout the day for comfort as well. It's also near silent when moving, so there's no annoying motor buzz if he decides to change while watching his favorite shows. Chair is even better than expected! Arrived 2 days earlier than expected as well!
It does what it is supposed to do. My husband had hip replacement and it gets him up. Do not expect the chair to last long as it does not seem extremely strong but it has been a lifesaver for us and really glad we purchased it. Delivery was good but not sure how we would have gotten it in the house if I didn't have a son in law that could help me unbox it and put it together.
Coaster - Recliners - 601025 - Lift recliner features the look of an automotive:style bustle back; Thick pillow arms, and the all:over comfort of textured velvet; Ideal piece for people with all abili...