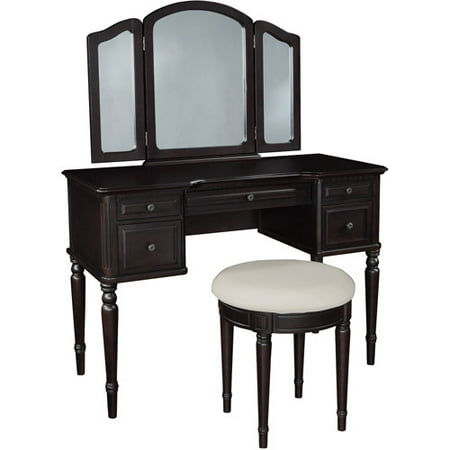 The Classic Vanity with Tri-Fold Mirror is designed to add an elegant touch to your bedroom. It is made from solid wood and veneers for extra durability. This espresso vanity has attractive raised molding on the front drawer panels and decorative antique knobs. It has turned spindle legs and five drawers for a variety of storage options. This sturdy vanity also comes with a bench and a tri-fold mirror with adjustable side mirrors. Its stool has a round seat cushion upholstered in a neutral fabric that would work well with a broad range of decors. This Classic Vanity with Tri-Fold Mirror would make an attractive addition to a master suite. It offers a roomy surface area, detailed carved accents and generously sized drawers. The middle drawer could even be used to hold a long hairstyling product such as a curling iron or a straightening iron. The other four drawers can be used for make-up and styling accessories. Vanity with Tri-Fold Mirror and Bench, Espresso:
Beautifully styled espresso vanity
Elegant molding throughout
Turned spindle legs
Round stool has thick seat cushion upholstered with neutral fabric
Raised frames on drawer faces have decorative antique knobs
Five spacious drawers
This vanity with bench and mirror is constructed of solid wood and veneers
Would make an elegant addition to a master bedroom
Side mirrors can be adjusted as needed
Roomy surface area, detailed carved accents and generously sized drawers
reviews
I wish someone would have told me that I couldn't put acetone on this mirror. I believe it's absolutely amazing for the price but this past weekend I was cleaning my nails and I put a little piece of cotton with acetone on it, after 10 minutes when I tried to remove it, it like all glue together and it totally destroyed the paint. I mean it looks nice but you can tell it's cheap materials.im attaching a picture so you can see what it looks like 🙁
This is exactly what my step daughter wanted and she loves it, easy assembly for me which is great and it arrived on time.
I love the look everything was good putting together but the mirror,there were no pre drill holes so I did my own thing.wish drawer were deeper and pulled out more,a man must of designed this sorry guys next time ask a woman's opinion…would I recommend yes ever with the floors …love the way it looks….
I simply cannot say enough about this vanity. I was expecting the cheaply made, build-yourself furniture that you typically find, but this was anything but! It was doubleboxed with premium packaging to ensure no nicks, cuts, scuffs or bruises. Once I dug out all the packaging, I realized (with great delight) that the bulk of the desk came pre-assembled. This product was built to perfection within minutes.The top unit (containing the vanity top and five drawers) was already built for me, leaving just the legs of the vanity and stool for me to assemble. A few quick screws to install the tri-mirror and BAM – Instant beauty! The drawers are on the smaller side, but with five separate drawers, there is plenty of space to store everything you need. This set is completed with a well built stool. It has plenty of padding for comfort and has quality legs that don't wobble. The cherry on top is the tri-fold mirror that you can bend and set according to your needs. I would definitely recommend this top quality vanity. This was originally going to be for my daughter, but after I saw the quality, I might keep it for myself 🙂
Very lovely, the dark espresso matches the other dark espresso furniture perfectly. The stool tucks in nicely so that its out of the way. Beautiful details that dont show up on the photo. Very easy to put together due to the main body being solid. Highly recommend
When i received it was missing the knobs to the drawers and had no mirror support legs. It is now sitting half assembled and have to email company for missing parts. On form it says the parts could take from 5 to 7 days to ship after they review the request. Very unhappy!!! This was a anniversary gift from my husband!!