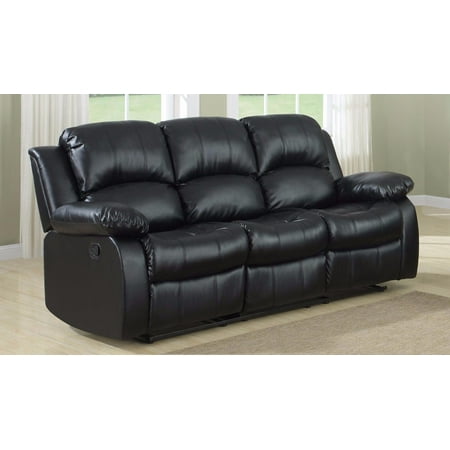 Classic 3 Seat Bonded Leather Double Recliner Sofa
Soft bonded leather upholstery with a matte finish to avoid sweat and skin from sticking to the material. Ultra plush and comfortable reclining mechanism for sleep and a comfortable position.
Features:
Dual reclining seats
Soft bonded leather upholstery
High density foam cushions
Measures: 73″ L x 29″ W x 39″ H inchesSeat Height- 19″ inchesSeat Width- 56″ inchesSeat Depth- 21″ inchesRecliner (all the way)- 64″ inches
reviews
Great couch. The product came extremely well packaged. There wasn't a single mark or dent or anything and I believe it had to do with how well it was packaged and wrapped. The two delivery guys who came were amazing and so kind. I will definitely be purchasing from this site again.
This item was delivered in a timely manor and came in enough pieces that it was easy to get into a small house. It is of good quality, but there is nothing "oversized" or "overstuffed" about it. My husband is 6'3" and this couch is a little small for him. All three cushions across are about 5.5 feet. It's a great couch for a small space, but I am concerned with how long it will last. It's "just good enough" to have been worth what we paid for it.
Items seems to be good. But I am sure it will not last long. Couple of points which I want to bring up here 1. The item itself came as damaged. The cloth under the seats is really not good. It was tored during the shipping itself. 2. Delivery guys will not be able to bring upstairs if you are in 2nd or 3rd floor. You have to take someones help. 3. The side leather also had two holes when I received it. 4. The width of the seat towards front is small. If you are of above 5.8 ft and your legs are long you will find it much difficult to sit as the length towards the knee is not enough. 5. The moment I opened the recliner two screws fell down. And its really hard to find where those screws fell down because there are so many screws underneath. If you are looking for a sofa which lasts for longer duration…this is not the one.
Only issue … shipping guys don't bring it into house!