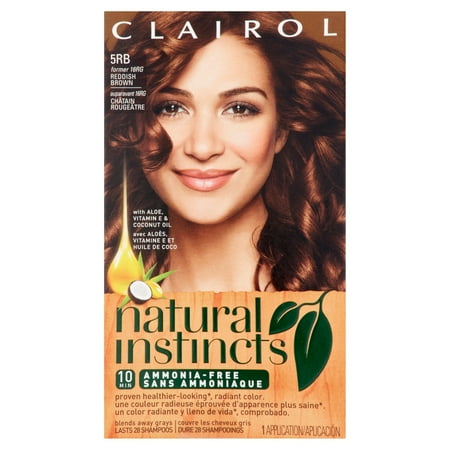 5RB Former 16 RG Reddish Brown Hair Color
Proven healthier-looking*, radiant color.
Healthier-looking*, radiant color natural instincts with an ammonia free formula, gives you healthier-looking*, radiant color and blends away gray in 10 minutes. Color lasts up to 6 weeks.
*vs untreated
System with Aloe, Vitamin E & Coconut Oil
Our demi-permanent Natural Instincts system with aloe, vitamin E and coconut oil. It's proven less damaging.
Natural Instincts Level 2 non-permanent vs. the leading Triple Protection Level 3 permanent crme color: based on amount of surface damage.
See radiant color, and feel touchable softness after coloring.
Condition Your Color
Natural Instincts with a unique blend of Aloe and Coconut Oil – it's haircolor that actually improves the healthy look of your hair! Clairol Natural Instincts, 5RB / 16RG Sedona Sunset Reddish Brown, Semi-Permanent Hair Color:
Keep your look fresh with commitment-free semi-permanent color that lasts 28 washes
The healthier way to radiant color with 0% ammonia (Natural Instincts non-permanent Level 2 vs. leading triple-protection permanent)
The #1 semi-permanent hair color (based on unit volume sold)
Made with natural ingredients: coconut oil, aloe, and vitamins
Non-Permanent Hair Color
Warnings:
Warning Text: Important safety warnings: Hair color products may cause allergic reactions, which in rare cases can be severe. Tattoos may increase the risk of allergy to this product. Conduct a skin allergy test 48 hours prior to each application, even if you have already used coloring products before. Remember to buy the product 48 hours in advance. Do not use this product if you have experienced any reaction to hair color products or have sensitive, irritated or damaged scalp. In these cases, do not conduct the skin allergy test and consult a doctor before using any hair color product. Read and follow instructions carefully. In rare cases, use of hair colorants has been associated with temporary or permanent skin depigmentation (skin lightening or loss of color). If you notice any skin depigmentation or other unexpected reaction such as pain or severe itching, discontinue use immediately., This product contains Ingredients that may cause skin irritation on certain individuals and a preliminary test according to accompanying directions should first be made. This product must not be used for dyeing the eyelashes or eyebrows. To do so may cause blindness. Product not intended to be used on children. Keep out of reach of children. Follow safety warnings. Perform the skin allergy test 48 hours before coloring. Can cause allergic reactions follow the safety warnings.
Ingredients:
Ingredients: Water, Hexylene Glycol, Ethanolamine, Propylene Glycol, Trisodium Ethylenediamine Disuccinate, Soytrimonium Chloride, Ethoxydiglycol, Oleth-5, Fragrance, C11-15 Pareth-9, Oleth-2, P-Aminophenol, Dilinoleic Acid, Cocamidopropyl Betaine, Tall Oil Acid, 4-Amino-2-Hydroxytoluene, Erythorbic Acid, 2-Methyl-5-Hydroxyethylaminophenol, Sodium Sulfite, Oleamide Mipa, C12-15 Pareth-3, Oleth-10, Panthenol, Edta, P-Phenylenediamine, 2-Methylresorcinol, 1-Acetoxy-2-Methylnaphthalene, Tocopherol, Ascorbic Acid. Color Activator: Water, Hydrogen Peroxide, Acrylates Copolymer, Steareth-21, Oleth-2, Peg-50 Hydrogenated Palmamide, Oleth-5, Acrylates/Steareth-20 Methacrylate Copolymer, Oleyl Alcohol, Etidronic Acid, Disodium Edta, Simethicone, Sorbitan Stearate, Peg-40 Stearate. Colortreat Conditioner: Water, Bis-Hydroxy/Methoxy Amodimethicone, Stearyl Alcohol, Cetyl Alcohol, Stearamidopropyl Dimethylamine, Glutamic Acid, Fragrance, Benzyl Alcohol, Panthenyl Ethyl Ether, Citric Acid, Edta, Sodium Chloride, Cocos Nucifera (Coconut) Oil, Carthamus Tinctorius (Safflower) Seed Oil, Panthenol, Trimethylsiloxysilicate, Aloe Barbadensis Leaf Juice, Methylchloroisothiazolinone, Methylisothiazolinone.
Directions:
Instructions: Usage instructions included in the kit.
reviews
I really like Clairol Natural Instincts Hair Colour. Very gentle on my hair!
I think this is a good quality to give a new look. It does not have a strong odor. It smell ok. My kids could be around me while i had it on. Do not put it if you have scraps on youre head. It does sting. Also do not paint it on top of other colored hair. Its better if you have virgin hair or have a similar colored hair.
yay! clairol natural instincts!! i think this hair dye is prefect for every day people. and people sensitive to ammonia and has sensitive skin /scalp. this amonia free hair dye that only last 28 washes is a great choice for any one!
I think this was a good product and I'm really happy that it's ammonia free. Just make sure you follow the step by step instructions, they're different then the regular dying method. The dark brown was a great shade for my fair skin color.
I am so glad that I tried the Clairol Natural Instincts Sahara Light Blonde; I actually used to use this over 10 years ago and loved it but moved away from coloring to highlighting. But do to financial reasons, I'm back to coloring my hair at home! I love the Clairol Natural Instincts line because it's not harsh and my hair always feels healthier after I use it! Also it doesn't have that horrible smell, it still smells a little since it is hair color. It smells pretty good I think! The color is great and never looks brassy and only lasts 28 washes which is great if your scared about trying a new color. All in all I'm super happy to be back to using Clairol Natural Instincts Sahara Light Blonde!
I have medium/dark brown hair naturally. This dye gave me perfect full coverage with no noticeable damage. The application was very easy and I prefer applying this to damp hair than formulas that require dry hair. My hair is still very soft and shiny and has hardly faded after multiple washes. Here is a picture of my hair after two washes and five days of wear.
As someone new to hair dye, I appreciated the simple 3-step process with easy instructions. My favorite thing about this product is the lack of ammonia – no bad smell, it actually smelled nice. The color came out nice and shiny – a natural black as opposed to flat, goth black, and my hair looks a bit more healthy than it did before.
It was a very big change from blonde. Too dark for me.next time I will try a lighter color. it was very easy to use.. didn't have a bad smell either
Clairol Natural Instincts, 5RB / 16RG Sedona Sunset Reddish Brown, Semi-Permanent Hair Color: Keep your look fresh with commitment-free semi-permanent color that lasts 28 washesThe healthier way to ra...
Natural Instincts with a unique blend of Aloe and Coconut - it s haircolor that actually improves the healthy look of your hair! Clairol Natural Instincts Hair Color Reddish Brown 16RG Kit includes: S...