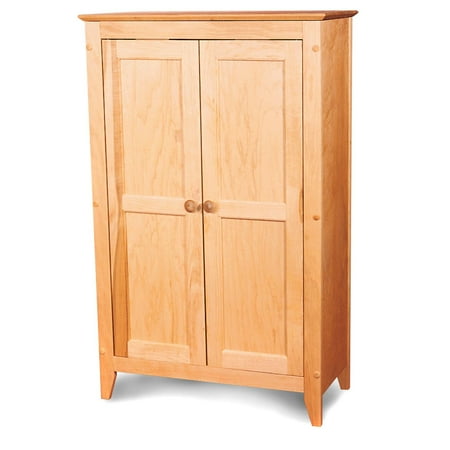 You'll find so many uses for the Catskill Pie Safe Double-Door Cabinet, you may find you'll need more than one. Perfect as a pantry in the kitchen, a linen closet in the bathroom, or for hiding away movies and music in the living room, this cabinet is versatile enough to fit in anywhere. Behind the double doors, you'll find three shelves for keeping things separate and organized. The top, legs, braces, and door are constructed of oil-finished natural yellow birch hardwood, which is indigenous to the Northeastern U.S. and ranges in color from blond to a darker walnut shade; the natural variation in color allows this cabinet to coordinate with your existing decor. The side and back panels are constructed of warp-resistant veneers because machine-made parts are made with more precision, and are therefore easier to assemble. Requires simple nut-and-bolt assembly with the use of common household tools.
Dimensions:
Overall: 30.25W x 14.25D x 48H inches
Shelf Interior: 27W x 11.25D x 14H (clearance) inches
Catskill Craftsmen's Eco-friendly Practices
Catskill Craftsmen is committed to protecting the environment through responsible forest management and manufacturing practices. Located in the Catskill Mountains of upper state New York, Catskill Craftsmen plays a role in maintaining the health of the New York City watershed. This watershed provides clean water for New York City and other communities in the area. Healthy, well-managed forests are better able to filter pollutants from entering streams and rivers, which preserves the quality of watershed resources. With this goal in mind, the company supports the efforts of the Watershed Agricultural Council (WAC). With the WAC, Catskill Craftsmen encourages lumber suppliers (family forest owners and public land managers) to make wise harvesting decisions and control erosion in order to safeguard water quality.
Other efforts to protect the environment include using sustainable wood sources and reducing wood waste. Catskill Craftsmen's manufactured items are made from naturally self-sustaining, non-endangered North American hardwoods, primarily birch and hard rock maple. All sawdust, shavings, and waste materials generated during the manufacturing process are converted into wood pellet fuel used to heat homes. This alternative heating source creates less ash and lower emissions than some other fuels. By operating their own wood pellet mill, Catskill Craftsmen reduces their wood waste to zero. As natural resources become even more valuable, Catskill Craftsmen will continue to advance proper stewardship of the pristine Catskill Mountain region.
reviews
storage for can goods in kitchen.
Good quality. Very useful! Directions need to be improved!
Just the right size for my small kitchen, love it with adjustable shelving
This is a beautiful piece of furniture for a "kit" piece. It is sturdy and of high quality. The assembly directions were very clear and the piece was easy to put together. All necessary parts were included, along with a guarantee for quick replacement/shipping if a part was missing. I would highly recommend this piece of furniture for storage.
Very nice quality and looks beautiful! Right now I'm using it to store my books.
We just finished putting together our new cabinet and it looks great! Lots of parts-took 2 hours to put together with normal interruptions from the kids. Feels sturdy and good quality for the price. Came in two boxes-very heavy. Love that it doesn't have that chemical smell I know is toxic to my family. Using it in the living room just off the dining/kitchen to store candles, soaps, placemats, etc. Just right to see what I need (not too deep).
This stuff is nothing near to how it's shown in picture. Only the front door and small panels are wood, rest two sides and the back are heavy thick plywood. The hardware to assemble did not seem to go in properly therefore assembly makes it very difficult. The parts are not labeled instruction is confusing which make even frustrating. Lousy product. I almost broke my back to disassemble half done to package to send back. Their customer service is very helpful.