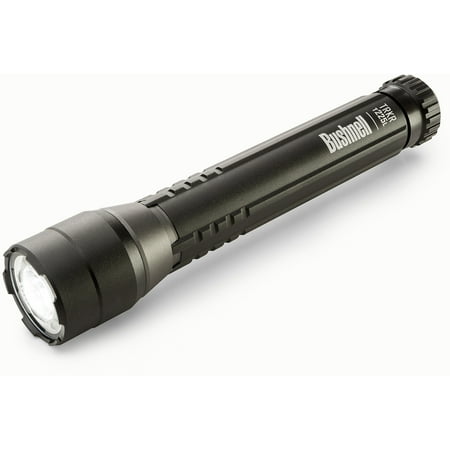 Experience the Bushnell TRKR series, high-performance lighting products as serious about the outdoors as you are! These high-intensity, multi-function lights have three modes: brilliant white light, night vision-preserving red light and blood tracking blue light. The Bushnell TRKR 225-Lumen Flashlight is a powerful flashlight with 225 lumens of light output. The CREE high-powered LED and polished reflector provide a uniform beam pattern for 107 meters. This product runs on two low-cost AA batteries (included) and is constructed of high-quality materials.
Bushnell TRKR 225-Lumen Multi-Color Flashlight, 107m Beam:
CREE LED technology
3 light modes: white, red and blood tracking
Momentary on switch with intelligence
Aircraft-grade aluminum
Pocket clip
Impact-resistant construction
Lifetime bulb
Powered by 2 AA batteries (Duracell batteries included)
Tested to ANSI FL1 standards
High setting: 225 lumens with 1 hr 30 min run time and 107m beam distance
Red mode: 13 lumens with 5 hr 45 min run time and 13m beam distance
Blue TRKR mode: 6 lumens with 5 hr 30 min run time and 7m beam distance
1-year limited warranty
Model# 20065
Attention California Residents: WARNING: This product contains chemicals known to the State of California to cause cancer, birth defects or other reproductive harm.
reviews
This flashlight is replacement for the my old TRKR 125 which is the 4-inch version. I lost the 125 and decided to go with something larger. The bigger one really is better. It still fits in my pocket but if you have small pockets it's going to be tight, since the flashlight is 6 inches long. It is very bright, illuminating landscapes up to 300 feet away easily. The red mode and blood tracking blue modes are much dimmer but that's a good thing. The batteries last for about 1.5 hours which is short but I just carry extra rechargeable AA's. I have dropped it several times from waist height onto concrete and it only scratched. It didn't shatter the lens or anything. Very solid and durable. Overall this flashlight is the most powerful for its size and price, but it is also very durable!
So far so good. I wanted an affordable compact LED that uses AA batteries and has both white and red light capability. Got it. Not sure that I need the "blood tracking" feature though it does indeed greatly enhance the visibility of red/orange objects. I wish you could turn the light on with "red" being the first option but the "white" light is always first which detracts from my night vision. I guess the trick is to cover the bezel until the red light is emitted.
Has a nice solid feel and a great beam, although it seems most LED flashlights have good lighting, will see if its more durable than the cheaper ones I have bought, but at this point it certainly has more substance than the cheapies
Very bright for it's size, haven't tried other colors yet while hunting.
The only negative is that it does not adjust to a focal point, but because the flashlight is so bright the lack of any adjustment capability may be a side note.
great little light.super bright.mounted it on a 410 shotgun
On and off rubber cap ripped and it stopped working ………….very disappointing …..probably good if you use it as an emergency light but not for everyday work.
Bushnell TRKR 500-Lumen Multi-Color Flashlight, 162m Beam: CREE LED technology3 light modes: white, red and blood trackingMomentary on switchAircraft-grade aluminumImpact-resistant constructionLifetim...