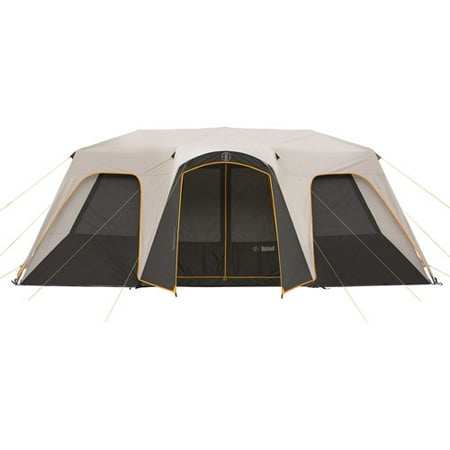 Experience the outdoors in the latest tent technology! The Bushnell Shield Series Instant Cabin Tent offers Heat Shield technology featuring a special reflective coating on the underside of the rainfly which blocks the sun's UV rays keeping the tent darker and noticeably cooler. Weather Shield features defend from the toughest weather. Water repellent fabric and fully taped waterproof seams seal-off your tent from the rain while strong frame construction and heavy duty tie-downs stand tough against the wind. Setup camp in less than two minutes with patented Instant Setup technology. Large mesh windows allow for enhanced ventilation and panoramic views while privacy panels on windows zip shut when needed. Internal and external gear organizers keep items close at hand and reflective tie-downs, zipper-pulls, and piping around doors enhance nighttime visibility.
Bushnell Shield Series 12 Person 3 Room Instant Cabin Tent:
Setup in under two minutes seconds with no assembly required
Heat Shield Technology keeps tent darker and cooler
Weather Shield Technology provides protected, dry-zone camping
Sleeps 12
Fits 3 Queen Airbeds
Includes 3/4 rainfly with fully taped seams
Includes two room dividers to create a three room tent
Front awning with external gear organizers
Heavy-duty 150D fabric, twice as thick as standard tent fabric
8 windows
Utility Port for electrical cord access
Ground vent for added ventilation
Carry bag included
Tent stakes included
Measures: 18′ x 11′
Center height: 80″
Attention California Residents: WARNING: this product contains chemicals known to the State of California to cause cancer, birth defects or other reproductive harm
reviews
I have camped with this tent several times. We have been camping in terrible windy storms with huge downpours and haven't had a drop in the tent. It's very easy to set up and take down. The storage bag could be larger though. I love this tent!
This tent is great for family camping, design of the door is great. Allows you to bring your gear in easily. Also the position of where the door is is very nice. Put queen size mattress to the left for the kids, queen size mattress to the right for the adults and left the middle of the tent for our table and chairs. Plenty of room still to spare. like most tents it is not easy to put tent back in the bag when you are done. Also tent is heavy but the bag does have wheels so you can pull it like luggage.
We go camping often with the Cub Scouts of America. We wanted a large tent and first tried the Ozark tent but due to the design it would not stand up under the smallest wind the side would fold. We read many good reviews on the Bushnell and ordered it. We tried for three days to get the tent to stand without the two sides folding in on themselves. Called Bushnell and was advised to check all screws on the hubs to see if any were lose. After lower the tent and checking the hub screws all were lose. After I tighten the screws the tent was up with rainfly in place in about 4 minutes. The tent has been up for three days and has stood through wind and rain and I am in New Orleans so we get those thunderstorms and it did well. Just remember if you by this tent before you set it up the first time get a phillip head screw driver and check the hub and also tighten the string up on the main center hub and you have no problem
I am a review reader, so I was confused by the reviewers who had such trouble setting it up vs those who got it quick and easy. Well happy to report we fit into the latter; this thing went up within 8 mins out of the box – and that's because we played with the neighbors dog a little. For those who read this – the rick is in not overextending the poles, but to push them up and tighter. That then props up everything. We got it down and in the box in about 10 mins. Tent is high quality but get a mat because the floor is crackly. We also got a mat to set it on which has kept it fairly clean and dust/dirt free. Got down to 55F and with the windows slightly cracked and a room space heater it got nice and toasty! We love it, has ridiculous amount of room and nice attention to detail. Enjoy yours!
My family and I just returned home from Charlotte, NC. We camped for the second time at Charlotte Motor Speedway. Last year, it rained 1 day and we had standing water in our tent. We knew then we needed something bigger and better. We shopped around and decided to get the Bushnell Shield Series cabin tent. Well, we used it for the first time this past weekend. It was put threw the ringer! It rained all day Friday, and then Hurricane Mathew paid us a visit on Saturday! There was standing water all around our tent, and NONE inside! It withstood all the wind gusts and never collapsed! All the other tents around us, (maybe about 10) all were destroyed! I can not say enough about this tent! It was the best purchase we ever made!
We just purchased this tent and used it for the first time on labor day weekend. So far I love it!!! We set it up in the dark, in the wind and for the first time and I stool only took is a few minutes. I bought this tent do I could go camping with the kids on my own if I had to. Our old tent I couldn't set up without help. This thing is great! I can assert it up and tear it down alone. It's a tad bit heavy and a little awkward to got back in the bag but it does go back in after you get the air pushed out of it. The only thing I think I will change is the tent spikes. I prefer the larger heavy duty ones and this tent only came with the small ones. P.S. It's huge inside. More than enough room for the average camper.
The first tent we received had a hole in the bottom where the seam was, so we returned it. Thought we would give it another try, so we ordered a second tent. The second one was even worse, the quick set up system would not stay set up, three times it collapsed after we had it up. Finally we got it to stay up by not extending the poles outward which left the floor a wrinkled mess. Good concept, poor design.
Ozark Trail 12 Person 3 Room Hybrid Instant Cabin Tent: Sets up in just minutesSleeps 12Material content: polyester/steel3-room tentIncluded rainflyFully taped factory sealed seams providing dry zone ...
Ozark Trail 12-Person 3-Room Instant Cabin Tent with Screen Room: Sets up in under 2 minutesSleeps 12No assembly required: Poles pre-attached to tentFits 3 queen-sized airbeds3-room tent2 room divider...
Ozark Trail 12-Person 3 Room Instant Cabin Tent with Screen Room: Sets up in under 2 minutesSleeps 12No assembly required: poles pre-attached to tentFits 3 queen-sized airbeds3-room tent2 room divider...