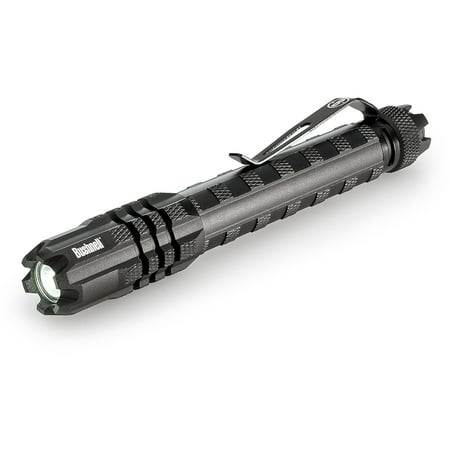 Bushnell's Pro line of tactical flashlights takes battery lighting to the next level! This line features advanced circuitry paired with rugged, aircraft-grade aluminum construction to create high-performance flashlights. The Bushnell Pro 100L Flashlight has 100 lumens of light output on high mode and features momentary on intelligent switch. Depress the switch half-way for momentary on; depress fully for constant on. This Pro light also includes a pocket clip to make carrying and transport easy. Powered by two AAA battery (battery included), the Bushnell Pro 100L Flashlight has a three hour, 30 minute run time and 35 meter beam distance.
Bushnell Pro 100L High-Performance Flashlight:
CREE LED technology
Momentary on switch
Aircraft-grade aluminum
Pocket clip
Impact-resistant construction
Lifetime bulb
Powered by 2 AAA batteries (Duracell batteries included)
Tested to ANSI FL1 Standards: 100 lumens, 3 hr 30 min run time, 35 m beam distance, 2 m impact resistance
Attention California Residents: WARNING: This product contains chemicals known to the State of California to cause cancer, birth defects or other reproductive harm.
reviews
This flashlight is very well built, sturdy and has a simple push button switch. I replaced a Streamlight with a complex multifunction switch with this light. I was so happy with the performance that I purchased another.
A lot brighter then I thought it would be and can withstand a beating
One minor complaint. The light produced has a "yellow spot" in the center of the beam. Not a deal breaker for me. Plenty bright for the size and the tactical serations (both ends) make it a nice EDC for me.
My husband uses this flashlight all the time at work for maintenance . This was a second purchase to have one at home.
I've owned this light for around 6 months now and keep it as my EDC (everyday carry) light. It's a little thicker than a sharpie, and fits relatively comfortably in my pocket, I work in the IT field and am finding myself in a dark space trying to hook up computers, follow cables, or just see better into a tower that I am working on. This light is extremely bright for a light that takes two AAA batteries. In the 6 months that I've owned this light, I just recently had to replace the batteries. My only complaint though, is my pocket clip just broke last night (snagged on something as I was walking and broke) I was actually very surprised to see that happened, as the pocket clip is pretty thick. Bushnell gives a 1 year warranty on flashlights, (A little disappointed to see only a year, but for $20.00, I can understand why) provided you save the receipt, otherwise they go based off of the date of production for that model. Either way, a good light!
I have had my light almost a month and was starting to like it as I carry it every day in my pocket. I is very bright but the light isn't focused so it doesn't give you a lot of range. Today the belt clip broke and I tried to contact bushnell and they informed me it wasn't their product that I had to contact another company to witch they gave me a phone number. I called, no answer during regular business hour. Not looking promising on any type of warranty