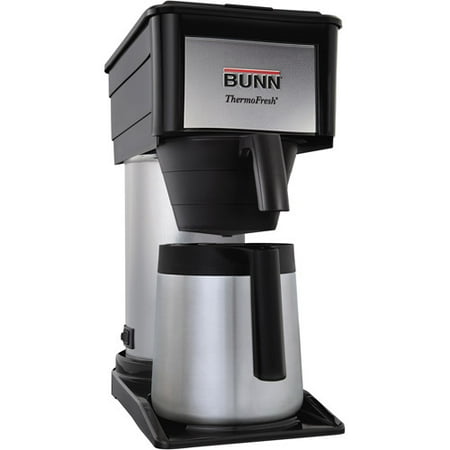 The BUNN BTD Velocity Brew High Altitude Home Coffee Brewer delivers 20-50 ounces of delicious coffee in less than three minutes. It comes with a double-wall insulated vacuum carafe that keeps brewed coffee warm for up to two hours. The Bunn coffee brewer has a stainless steel tank with built-in thermostat that maintains water at an optimal temperature for high-quality brewing. Specially engineered, the thermostat works like a charm at altitudes higher than 5,000 feet. Equipped with the patented sprayhead design, the stainless steel coffee brewer creates turbulence in the grounds for enhanced flavor extraction. Crafted with a generous handle and simple close-and-brew lid, the dishwasher-safe vacuum carafe is easy to use. Further, the black BUNN coffee brewer features an elegant contemporary design that blends in well with most decors. Overall, the BUNN BTD Velocity Brew High Altitude Home Coffee Brewer makes a smart choice for coffee lovers.
BUNN BTD Velocity Brew High Altitude 10-Cup Thermal Carafe Home Brewer, Black:
50-oz decanter
Vacation switch turns tank heat off
Unbreakable double wall carafe is dishwasher safe
Convenient close-and-brew lid
No warmer needed for this 10-cup thermal carafe coffee maker
Brews 10 cups of perfect coffee in 3 minutes
Produces exceptional cafe quality coffee
Stainless steel tank with internal thermostat keeps water at ideal brewing temperature
Sprayhead design improves coffee flavor extraction
Model# BTX-B(D)
Directions:
Fabric Care Instructions: Follow instructions provided on the tag or packaging.
reviews
We bought a BTX-B ten years ago and have really enjoyed good coffee. It started leaking water therefore purchasing a new Bunn. Could I have done something wrong? Anyway, what I like about the new one is the spout of the carafe. No longer water runoff. Water temperature a little higher? It's just a good coffee maker.
Love Bunn Coffee Makers. Way more practical than a Keurig for Coffee Lovers. Super fast Brew. Keeps your pot warm for hours. You never have to worry about turning off the burner and burning your scrubbing y our pot of black Charcoal!
Always have liked the bunn coffee pots and this is another great one.I love the thermos like carafe for keeping the coffee hot and not get to strong. Love it!!
We love it. Coffee tastes better than ever. Fresh. I think everyone should have one . Amazing. Thank you for an awesome product!!!
I could,ent believe the WalMart discount price compared to all the other on line vendors for this high grade coffee brewer system with thermal carafe! Couple this with free shipping to home address and you have a great coffee brewer at a fantastic price!
We love our new Bunn Velocity Brew 10-Cup Thermal Coffee Brewer. We just retired our 15 year old Bunn because we felt it was time to treat ourselves to this newer version. Our old Bunn still made great coffee, but in its old age, it was slowing down a little bit, even though we regularly clean it, as suggested. Our new Bunn makes the coffee incredibly fast and we can put the pot on the table and have hot coffee at our finger tips while eating breakfast, and later if we haven't already finished it. I would definitely recommend this product.
This is exactly like my previous coffee maker that I loved. Easy to use and last a long time. When I moved, I decided to get the same model. Love it!
I have made a dozen pots of coffee with my new BUNN. Coffee is always hot and ready to brew the next pot. If your looking for a coffee pot that has an on/off button or programmable this isn't for you. The water is always heated awaiting the next pot of coffee. I love a hot cup of coffee and this machine does it. I purchased it for an awesome price and that swayed my decision to give this Bunn machine a try. I gave it 4 stars as an initial rating. Time will tell if I upgrade my stars to a 5.
Coffee flavor and quality is dependent on the water temperature in the brew, and sadly this didn't meet the standards. The box says it brews at 200 degrees, but immediate temperature readings of my coffee/water were in the 160-165 range … quite a bit off. I live at 6,000 feet, which is why I bought the High Altitude version, but it didn't seem to make a difference. Two weeks prior I bought the Bunn-O-Matic 10-cup Black Professional Coffee Brewer, GRX-B at Walmart, but it also only got to about 160-165 degrees, so I took it back to order the High Altitude version. I'm returning this tomorrow. I decided to get a Bonavita BV1800 8-Cup Coffee Maker, which has a 1400 Watt heater…the Bunn has a 850-900 Watt heater.