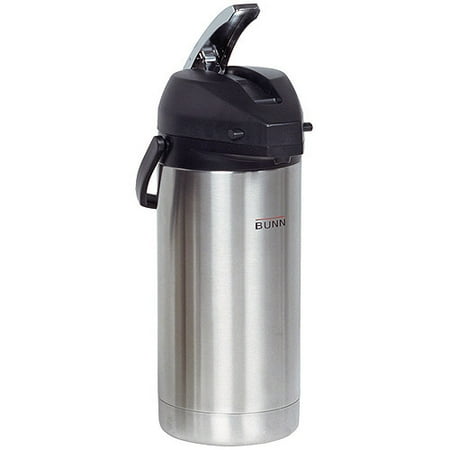 Keep your coffee and other beverages hot for hours thanks to the Bunn 3.8 Liter Airpot. It has a lever-action lid and features a stainless-steel lining that allows your beverage to stay hot and ready to enjoy for hours. The coffee airpot also has an easy-to-transport design that prevents spills while traveling. Since the stainless steel lever-action airpot has a 3.8-liter capacity, you'll have enough coffee to get you through the morning with plenty left over for friends and family. It carries all that coffee and it still fits nicely in the palm of your hand. You can dispense the beverage into mugs or cups. Take this airpot with you to sporting events or have plenty to share in your backyard as you engage in conversation with friends and family. Have a good cup of coffee ready at any time with the Bunn 3.8 Liter Airpot.
BUNN 36725 3.8 Liter Lever-Action Commercial Airpot, Stainless Steel:
3.8 liter (128 oz) capacity
Stainless-steel lining ensures hot coffee for hours
Brew-through lid with lever action for easy use
Coffee airpot is easy to transport
Dimensions: 17.6″L x 6.3″W x 9″H
Model# 36725
reviews
Used this for the first time yesterday for lemonade for our pickleball group of 80 players. Weather was hot and the Bunn Airpot kept the lemonade nice and cold. It was easy to fill and, using little cups, held enough to serve a lot of players. It was easy to transport with the convenient handle and the serving pump made it very easy to use. It worked so well that I'm going to purchase a second one to use for hot coffee, or more cold lemonade!
Bought as a replacement that we had for many years.
Group of staff using this since the coffee pot is far from their desks. Report is coffee stays hot for a long time. Nothing negative to report.
This is exactly what I needed for tailgating! I originally bought a Coleman beverage cooler, only to find out that it can (literally) only dispense water. This Bunn thermos is perfect! It holds a full gallon of whatever you're drinking and keeps it HOT the whole day. I love it!
Have been looking for a item like this for an event coming up at our church! I was able to purchase two right away and now we're set for regular and decaf coffee!
Bunn Airpot is used at our church at fellowship time after worship. It keep the coffee hot for hours and holds a full gallon (about 32 cups).
This pot keeps coffee hot for hours. Coffee does not spatter or drip when you pour a cup.
The order was handled quite well and I received it very quickly. It works very well (operating pump), however you have to pump it several times to get a full cup out. Also, the part I hate the most is that it doesn't keep the coffee warm for a long time. I figured with it being a BUNN product that it would work as stated. I do not suggest you purchase this product.