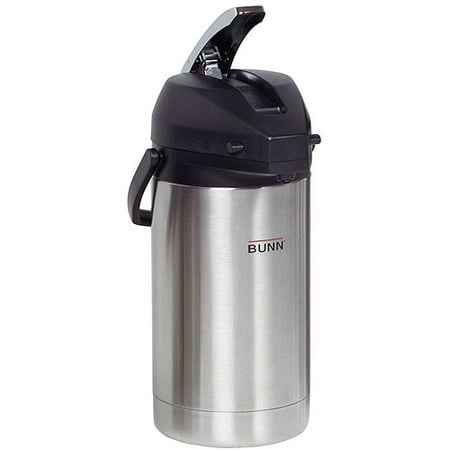 When you want to enjoy hot coffee all morning, try the Bunn Lever-Action Airpot, model 32130. This airpot is ideal for anyone who loves their morning coffee enough to go back for more than one cup. With a 3.0-liter capacity, you can even fix a cup for a friend or family member. The stainless steel lining in the Bunn Airpot ensures that the coffee stays hot for hours. Brew it at home and take it in to the office with you.
BUNN 32130 3.0 Liter Lever-Action Commercial Airpot, Stainless Steel :
3 liter (102 oz) capacity
Stainless-steel lining ensures hot coffee for hours
Brew-through lid with lever-action for easy use
Easy to transport
Dimensions: 9″L x 7.05″W x 15.84″H
Model# 32130
reviews
This will hold more than one pot of coffee and keep it warm for 5-6 hours.
Works great. Keep water hot for all day long. Sold construction. I felt initially that it is bit overprice, but after using it I feel it is all worth money.
Keeps the coffee hot longer without making it stronger throughout the day. Perfect to share with coworkers
This is a solid product. Handle with care. Fit close to 24 cups of coffee and kept hot!
Great for hot or cold drinks, football games, camping, traveling and anything you can think of. We have big family and will get a lot of use out of this!
Purchased a cheaper pump pot and it would not pump coffee after a week and would not stay hot. Purchase the Bunn commercial Air Pot it works perfectly and stays HOT.
My airpot can keep water hot for over 15 hours and warm for about 20 hours. I like to pour boiling water into the airpot the night before a lunch party, the water will stay hot all morning into early afternoon, with right temperature for making tea.
I had a glass-vacuum air pump which held coffee piping hot for over 12 hours. I could make coffee the night before, and it would still be steaming hot the next morning. It broke and I like the Bunn 3.0 liter because it has a stainless steel liner (won't break) and more importantly will hold almost 2 (12cup) pots of coffee. The old one would only hold about 1 1/3 pots. Bunn does keep coffee hot for many hours, but not like the old glass lined air pot.
Got this to use for dinner parties. I make the coffee before hand and this keeps it hot through out dinner without the coffee scorch I'd get if I left it on the coffee pot warmer. Would like it if it kept coffee hotter for longer.