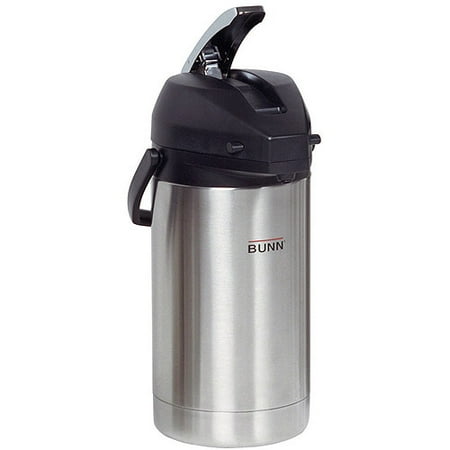 The Stainless Steel BUNN 32125 Lever-Action Airpot is designed to be a convenient and efficient airpot for your hot drink needs. This stainless steel airpot is designed to hold temperatures in and keep your coffee hot for hours. The Bunn 32125 2.5 Liter Lever Action Airpot has a brew-through insert and uses a lever-action pump for simple and convenient use. A carrying handle makes the BUNN Stainless Steel Lever Action Airpot easy to carry and transport. This BUNN airpot has a 2.5 liter (84 oz) capacity.
BUNN 32125 2.5 Liter Lever-Action Commercial Airpot, Stainless Steel :
2.5 liter (84 oz) capacity
Stainless-steel lining ensures hot coffee for hours
Brew-through lid with lever-action for easy use
Easy to transport
Dimensions: 14.6″L x 6.3″W x 9″H
Model# 32125
reviews
This holds a lot of coffee and keeps the coffee warm for about 1.5 days. The lever action pump works very well, much better than the push-button pump of the previous container we had. The push-button pump style did not work well for us.
These BUNN servers work great for catering or your local office. Ease of use and easy to clean. Keeps beverages hot for hrs.
This airpot works great. Keeps the beverage hot for a long time. A little bulky when cleaning but not a big deal. Unfortunately, the customer service experience when picking it up deserves no stars.
Very good~~ excellent, i bought total 4, 2 is for me, 1is my younger brothers wife, 1is my older brothers wife, it's too good to use only my self so, I wanted share with my sister in laws,,,,
This keeps beverages hot for longer than any I've ever owned. I have had coffee in it for at least 8 hours and it's still hot enough to burn your mouth.
This was a larger airpot then I needed. It can hold up to 14 cups + of coffee, and I make 8-10 cups in the morning. The airpot did hold the coffee hot enought to drink after 6 hours. The only down side to the pot is it's large and a little hard to clean in a normal sink. Over all worth the money.
I am extremely pleased! Burn is just pure quality! I like the larger capacity. The lever allows almost a full cup on one downward push. An excellent product! Highly recommend.
Durable, easy to use. Cleaning instructions must have been written in China because they don't point out where the "lid detach button" is, nor do they say how to get to the bellows, just that you should clean it. Otherwise, I like the product and I think it will be awesome for family gatherings.