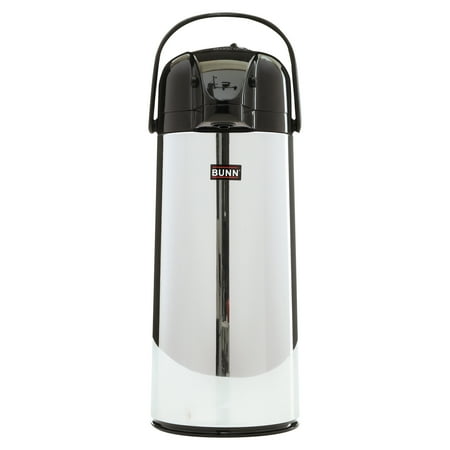 Keeps coffee hot and fresh for hours.
Keeps coffee hot and fresh for hours.
Glass liner
Model Number: 28696.0002
reviews
It keeps the liquid hot for hours – i've tested with hot water and even after 24 hrs it was warm enough. It can keep your tea/coffee burning hot for 3-10 hrs. Very handy. Cleaning is little difficult but we use it just for the parties, so its ok.
The quality I expect from bunn
I use this for setting up a beverage bar at a baby shower and it was not only functional, but also very attractive. I think it is a great product for the price. Very satisfied with this purchase!
We run the Dusty Trail Inn hotel in Garden City, Kansas and are always looking for ways to save on cost so we can keep our room rates reasonable. Finding these airpots on sale made them even cheaper then a generic airpot. Bunn keeps the coffee fresh and hot. Cleaning is fast and easy and all around it is a great product.
Great product, I used this Thanksgiving and it kept my product hot for over 8 hours, I had purchased a cheaper version first, but after receiving the Bun returned the other. The quality of this one was much better.
This is $60 for a large thermos with a pump dispenser. Wmt has another one for $36 but that one is + $10 shipping. This one is free, site to store. I thought for $15 extra I'd go with the brand name. Plus I had the feeling that the cheaper one was plastic insulation rather than a vacuum thermos bottle. I never did figure out what they mean by 'Brew Through'. You just flip the top open and pour your Brew Through the top of the thermos bottle. There is no sort of in-line brewing capability. You have to brew the coffee/tea and then fill the air pot. All that said, while it isn't fancy, it does seem to be a VERY serviceable unit. It is sturdy. Cleans up nicely. And it keeps liquids hot or cold for a VERY long time. If you pour liquid which is literally boiling hot into the air pot, the liquid will still be VERY hot 8 full hours later. Read the instr about preheating, pre-cooling, and not dropping ice cubes into an empty bottle to avoid breakage. A tip: Take it easy on the pump. The liquid only flows so fast no matter how hard you push on the pump. The air chamber in the pump is large and it delivers almost a full measuring cup of liquid with each pump. Hard short strokes will not get more liquid faster. A nice, easy, long, steady push will get you a lot of liquid and spare the wear on the pump.