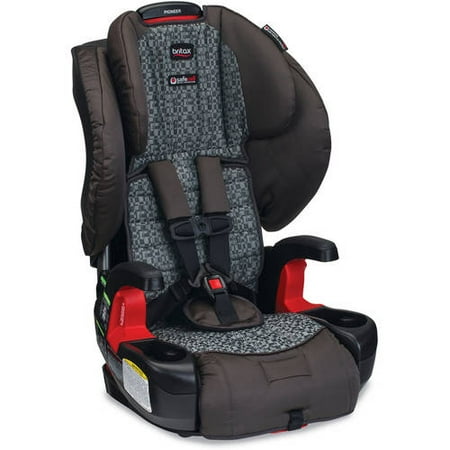 The Pioneer Harness-2-Booster Seat makes travel with your growing child safe, comfortable and hassle-free. SafeCell Impact Protection surrounds your child in safety and advanced layers of protection from Complete Side Impact Protection PLUS absorbs crash forces and keeps your child's head and neck secure. The quick-adjust, eight-position harness and two-position buckle easily adjust to fit your growing child.
Britax Pioneer G1.1 Harness-2-Booster Car Seat:
SafeCell Impact Protection is an integrated system of safety components that work together to protect your child well beyond the federal safety standards
Including an impact-absorbing base and tether, an impact-stabilizing steel frame and Complete Side Impact Protection PLUS
SafeCell means your child is surrounded in best-in-class safety
SafeCell Complete Side Impact Protection PLUS provides an advanced level of protection: a deep protective shell absorbs crash forces and shields your child from debris and an energy-absorbing headrest keeps your child's head and neck secure
SafeCell impact-absorbing base compresses to absorb crash energy and counteract forward movement, keeping your child clear from the seat in front of them
SafeCell impact-stabilizing steel frame gives you peace of mind knowing there is strength where you want it most, through the spine of the car seat, reducing forward flex and at the connection points to the vehicle
SafeCell impact absorbing tether minimizes potential seat rotation with a unique 2-strap design and slows forward movement with Britax's patented rows of stitching that give way 1 at a time
Quick-adjust, 8-position harness and 2-position buckle allows you to easily move the harness upward and buckle outward for a comfortable, secure fit as your child grows
Front-adjust recline easily alters the seat angle for your child's comfort
Integrated cup holders and storage keep drinks, snacks and toys close at hand
Easy-remove cover for cleaning convenience
Hassle-free transition easily converts from harness to booster by safely tucking away buckles and straps within the seat
Plush Foam Padding in the cover, buckle pad and shoulder pads surround your child in comfort at every touch point
Compatible with SecureGuard Clip to keep vehicle seat belt properly positioned on your child's hips when in booster mode minimizing the risk of abdominal injury (accessory sold separately)
Easy-on/easy-off LATCH connectors locks into place with an audible click to both secure the seat in Harness Mode and prevent it from becoming a projectile when unoccupied in booster mode
Color-coded, easy-access belt paths simplify vehicle seat belt installation
Tangle-free, 5-point harness prevents the straps from twisting making it easier to load your child into the seat and ensuring a safer ride
reviews
We've used Britax in the past and have been very pleased. Ease of use is great, super easy and snug install and great fit. Tightening the harness is very difficult. I have to pull as hard as I can several times and it hardly moves. I can get him secured properly and rarely have to tighten, but when I do, it is very difficult. The headrest is so squeaky because of the foam. He has not complained but it drives me crazy.
My grandson was asleep shortly after getting in his new car seat. So nice and secure. Have always had Britax!
We got this seat for our 3 year old and he loves it! Even though it is not a Clicktight, it installs nicely. Love the cup holders and he seems comfortable in it!
I bought this seat because of the price. I have owned SEVERAL Britax car seats and quality has never been an issue. The fact that this one doesn't have the hugs is a major downfall. I actually bought some and put them on bc the straps were so uncomfortable without them. The side head protection also rattles horribly when my son isn't in his seat….my mom has the same seat and it does the same. I feel it's safe but not as safe if I'd have spent a little more ($100) for the next model up. One great thing, though, is the cup holders 🙂
Bought this car seat several weeks ago and liking it so far. Easily adjusts. The only thing I've found that I don't like, is that the styrofoam rubs somewhere when our son isn't in the seat and the squeaking noise drives us crazy.
I purchased this for my grandson who is 3 years old. He loved the seat. He asks to go riding with me just to sit in the car seat.
I bought this as a recommendation from a sales clerk. It was difficult to install and then modify to fit her. This car seat is supposed to be safe but will not if it is unusable. It is going in the trash . What a waste of time and money.