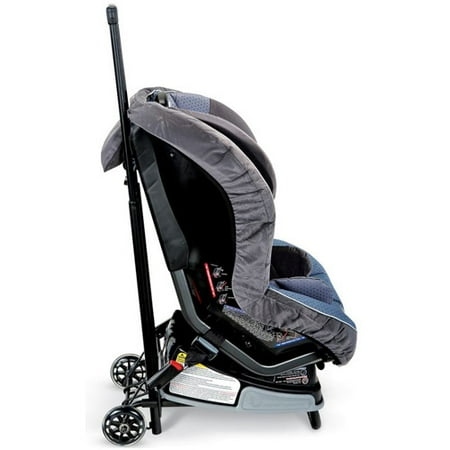 The Britax Car Seat Travel Cart is a convenient alternative when traveling through airports with your car seat and child in tow. Car seats attach effortlessly using the car seat latch connectors, the same connectors that secure your car seat tightly to your vehicle. When storing the Britax Car Seat Travel Cart, its compact fold allows it to fit into small spaces, including most airplane overhead compartments. With its durable steel frame design and easy-glide wheels, the Britax Car Seat Travel Cart can be used with children harnessed in car seats for short travel distances. The raised platform protects the car seat from contacting the ground, while the one-hand telescoping handle adjusts to fit any height caregiver. The Britax Car Seat Travel Cart accommodates all Britax Convertibles and Harnessed Booster seats, and most other brands. No assembly required.
Britax Car Seat Travel Cart:
The baby car seat cart is convenient when traveling through airports
Car seats attach effortlessly using the LATCH connectors
Compact fold design allows it to fit into small spaces
Fits in most airplane overhead compartments
Durable steel frame
The Britax Car Seat Cart has easy-glide wheels
1-handed telescoping handle
Accommodates all Britax Convertibles and Harnessed Booster seats
reviews
We bought three of these when my family moved from Florida to Japan. They were effective for moving 3 kids (9 months, 2 year old twins) and their bulky car seats through several airports and even on/off the planes themselves. Well designed and well built. True lifesavers — made our travels a lot easier!
Super easy to travel with a car seat… No need the stroller at the airport at all… My daughter loves it because she is comfortable in her car seat… People at the airport had problems knowing what is it and trying to take it apart… Best purchase ever!
We bought this product to help us carry our 2-year old girl on her Britax Boulevard CS carseat through the airport on our move from Germany to the US. I was completely surprised by how fast it made it to my house in Germany (APO address) and how sturdy, simple and chic it looks! It is extremely easy to attach the carseat to it. It doesnt require any assembly. It fit behind our seat on the plane (there were no seats behind our seat, but a wall). both carseat and the cart fit through the super narrow aisles on the plane. We did not need a stroller, because the car seat on it became one. Our girl was super comfortable throughout the trip instead of running around driving us crazy when we also had 8 huge suitcases, 2 backpacks, a pack and play and a cat to carry around. Summing it up, we are extremely satisfied with this purchase! I got stopped by a lot of people at the airports who wanted to look at it and thought it was just a great idea! 🙂 Completely recommend this! 5 stars for sure!
This product saved us at the airport. We were able to strap our kids into their respective seats and pull them along allowing us to solve two issues at once. a) how do we carry the heavy car seats through the airports, parking lots, hotels, etc… and b) how do we pull the kids along as well. This is a must have, super stable, easy to use (uses the full latch system of the car seats), smooth rolling and more. It is made of heavy duty metal, not flimsy feeling at all — it is super solid yet still light weight. The fact that we were able to buy them here at Walmart for $60 a piece made it even better. This was by far the lowest price anywhere and that even included free shipping!!!! Awesome deal, awesome product. We got two of them and both my wife and I can't stop raving about it — so many parents at the airports both in Hawaii and Los Angeles stopped and asked us about them.
We travel quite a bit, and now that our daughter is 25 pounds, it's a little much to carry her through the airport in the carrier. My husband and I did not want to buy the $300 airport car seat and then have to store it. This works perfect with our Britax Advocate. I'm not sure how it would work with other brands, but it seems fairly universal. It made going through the airport a breeze and was very safe and secure. Also, it was very easy to take apart for the xray machine. I would highly recommend this product.
I'm traveling with two little ones in a few weeks and I'm very excited to use this. When I opened it I used outside to make sure my graco car seat fits (and it does). Even if the baby can't sit in the seat it will be so much better than trying to carry it through the airport. The only thing is that it is very expensive and I honestly don't see the difference between this one and a luggage cart sold at $15. I like the Britax brand because it is the only one with the latch hooks. HOwever, if you don't plan on putting your child in the seat while rolling it just by a luggage cart.