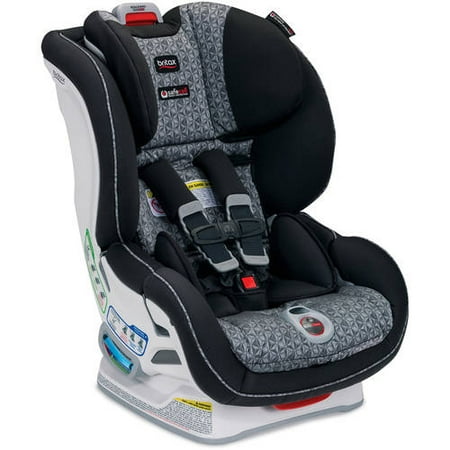 The safest and easiest installation available and superior side impact protection make the Boulevard ClickTight a smart choice for parents who want maximum assurance that their child is safe. The ClickTight Installation System gives you the safest and easiest installation every time so you can be certain your little one is well protected. This seat safeguards your child with side impact protection, an impact-absorbing base and steel frame. It also wraps your child in comfort with premium padding and fabrics. Purchase includes the car seat and a removable pillow.
Britax Boulevard ClickTight Convertible Car Seat:
ClickTight Installation System is the safest and simplest technology on the market
Open the front of the car seat, buckle the seat belt across and click the seat shut
SafeCell Impact Protection is a safety system including a steel frame, energy-absorbing base, V-shaped tether to minimize seat rotation and staged-release stitches that slow and reduce forward movement during a crash
2 layers of side impact protection, formed by a deep foam-lined shell and quick-adjust head protection, absorb energy and shield your child from the most dangerous type of collision
Impact-absorbing base compresses to reduce the rough force of a collision
Impact-stabilizing steel frame offers superior strength where you need it most: at the connection point to the vehicle
V-shaped tether minimizes seat rotation with a unique two-strap design
Britax-patented staged-release stitches slow the seat's forward movement during a crash
Click & Safe Snug Harness Indicator gives an audible "click" to aid you in the proper tightening of your child's harness
Quick-adjust 14-position harness and 2-position buckle allows you to easily move the harness upward and buckle outward for a comfortable secure fit as your child grows
7-position recline with automatic level indicator adjusts for your child's comfort while ensuring the best installation angle for your vehicle
Plush foam padding and fabrics for premium comfort
Easy-buckle system keeps buckles and straps out of your way when positioning your child
Easy-remove cover pulls free of the car seat for cleaning without having to remove the harness
Available in Circa, Kaleidoscope, Metro, Splash or Blakeney
reviews
I purchased a Boulevard ClickTight about 3 months ago and have been using it ever since. We also have a Marathon (non-ClickTight) and a Frontier 90 ClickTight that we've had for much longer so I was already aware of the amazing quality and features Britax has to offer. The ease of installation with the ClickTight feature is unbeatable. So simple! We are currently using it rear facing with a 21 month old who weighs about 24 pounds and is average height for his age. I haven't found myself thinking he looks even slightly uncomfortable or scrunched up. He has plenty of room and never complains about being in the seat. I like the harness click feature, although I do find that usually the first click is not near tight enough for my liking. But I supposed it would help people who may not know much about car seat safety to get the harness more secure than without. The cupholder is a bit of a pain – it took forever for me to realize where it should attach and there are no videos online that I could find. You also have to remove the cupholder to uninstall the seat, which is a bit difficult and I have already scratched a bit of the plastic off on both the attachment piece and the actual shell of the car seat in doing so. My main complaint and really the only real issue of this seat – and why I am giving it 4 stars – is that the crotch strap is SO short! I know many have said this and I did read that in the reviews before purchasing, however I didn't think it would be a huge concern because he is so skinny. It's definitely doable but buckling him in was so much easier in the Marathon. If it weren't for this flaw, I would really love this seat over anything else. But this one shortcoming is really making me miss the Marathon and tempts me to switch back to it for our main seat. Once the buckling process is completed, I do soon forget how much annoyance the short buckle gives me. I have heard Britax is not coming out with a longer replacement strap but I am hoping I am wrong and they release a more realistic length strap. Especially if I'm going to continue to use the Boulevard ClickTight for years in the future. Overall, we do love this seat, the ClickTight feature is so simple and quick, it's comfortable for baby and compact enough to rear face behind the driver's seat in my small SUV, and because it's Britax, the safety features are top notch.
This is the second Boulevard ClickTight car seat I have purchased. I buy them as gifts for the 1st birthdays in my family. Everyone loves them and we all feel good that they are riding safe. A firefighter commented to us that we had a good car seat and the sales rep told me this is the best!
Thank you to the weeSpring Parent Panel for allowing me the opportunity to submit my unbiased review of the Britax Boulevard Clicktight car seat. We are so pleased with this car seat! We previously were using a different car seat and our biggest complaint with it was that the straps would constantly get tangled in the back making it difficult to adjust. Completely solved with the Britax car seat which means less temper tantrums as mom struggles with strapping baby in! It was easy enough to install which of course is appreciated. It's heavy but I think it frankly just comes with the territory with convertible car seats. They're big and bulky but grateful for the incredible safety ratings to keep my little one safe. We have the Splash (gray and green color) and find it to be pretty attractive. Overall we're very happy and will absolutely be keeping this car seat and recommending it to friends.
I received this car seat as a gift from the weeSpring Parent Panel and am very grateful! The seat is very easy to install (we were able to quickly easily install it in an Uber when traveling!) and has features to use it extended rear facing. The fabric is very nice and my son is very comfortable in it. However, it's very heavy! This carseat is great if you're going to leave it in the car, but I wouldn't recommend it for travel.
My daughter has been using three different car seats as we have multiple vehicles. We aren't too crazy about any of them. A common theme is the difficulty of installation. I found the Britax to be much easier to install, minus the latch connectors ( would be nice if they were the snap on kind) . If I could switch one thing it would be that. Otherwise, I know that she is extremely protected in the Boulevard ClickTight. I love how the straps will always ensure that she is buckled at the correct point across her chest, although a bit bulky it gives me a little extra piece of mind. Thanks to the weeSping parent panel for sending me this car seat!
I replaced my son's Diono Radian RXT with this seat… and it was a terrible choice. The release to loosen the straps isn't easy for me to reach, I cannot get it to recline, and the crotch buckle is way too low when you're trying to strap in a child in the middle seat. This is by far the worst seat I've owned.