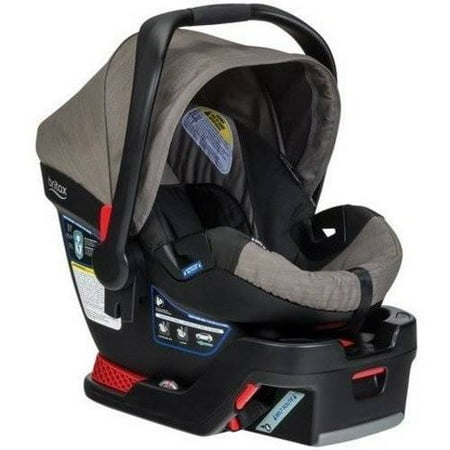 The Britax B-Safe 35 is your smart choice for an infant car seat from the #1 brand in safety technology. The Britax B-Safe 35 car seat keeps your baby safe and secure so that you can travel in total confidence.
The Britax B-Safe 35 has SafeCell Impact Protection, an innovative safety system found only in Britax car seats. It features an impact-stabilizing steel frame and an impact-absorbing base that compresses to absorb energy during a collision. This integrated system of safety components protects your child far beyond federal safety standards.
The Britax B-Safe 35 includes Britax-exclusive SafeCenter LATCH Installation, so you're always certain the car seat is accurately installed. Safely secure the car seat in your vehicle with the center-pull straps and lower LATCH connectors.
Pair this car seat with any Britax stroller to customize the perfect travel system. With Britax's Click and Go System, transitioning the B-Safe 35 from the car to the stroller is quick and secure — no adapters necessary.
The Britax B-Safe 35 Infant Car Seat is a rear-facing only car seat for infants weighing 4 to 35 lbs. and has been designed to make bringing your little one along for the ride safe and easy.
Includes: B-Safe 35 Infant Car Seat, Base, & Removable newborn head pad
Britax B-SAFE 35 Infant Car Seat
SafeCell Impact Protection is an integrated system of safety components that works to protect your child beyond federal safety standards
Side impact protection features a deep foam-lined shell to shield your child
Impact-absorbing base compresses to reduce the rough force of a collision
Impact-stabilizing steel frame offers superior strength where you need it most: at the connection point to the vehicle
SafeCenter LATCH installation has center-pull straps that tighten easily and quickly
Contoured shell takes up little space in your vehicle and minimizes your child's side-to-side movement to maximize protection
Click and Go stroller compatibility allows you to pair the seat with any Britax stroller to customize the perfect travel system
No adapters necessary
Removable head pad cushions your child and provides extra support
Extra-large canopy protects your little one from sun and rain
On/off lower LATCH connectors easily lock into place and release with the push of a button
Built-in lock-offs ensure a snug vehicle seat belt installation with minimal effort
Spring-assisted recline makes for easy angle adjustment during installation
Easy-release harness button makes it simple to loosen harness straps
Ergonomic handle makes carrying comfortable with your hand or forearm
Easy remove canopy for washing (hand washing recommended)
Model# E1A186R
reviews
Happy to provide my son wit the safety features of this product. I also purchased the newborn insert to use until he's a little bigger.
We loved this car seat that we purchased for our newbor. After a few months of use, the handle broke. I emailed Britax hoping they could at least send me a replacement part and they actually sent an entire new seat unit free of charge, within a week! We will be Britax customers for life! I can't say enough about how easy and efficient the entire process was.
As a first time mom I wanted nothing but the best for my infant. Finding the right car seat/infant carrier was important and I did extensive research to find the right one. I chose the B-safe 35 because it had the best safety reviews. My baby has always been snug and comfortable in her carrier and I have always felt that she is safe. Installing the seat is easy and always secure.
We purchased this car seat because of the top of the line safety specs. We loved the ease of use with this product into the base and into the stroller. The only trouble is that our 5-month old who was significantly under the height and weight limits began to HATE being in the car seat. He looked like he was really tight and restricted, so we purchased the Britax Boulevard Convertible car seat. It gave him much more room and the screaming fits while driving disappeared, so we assume it was likely the restriction from the B-Safe. It's a shame to have spent the money on the B-Safe to only use it for a few months. Our son is 10 months old now and is still 2″ and 12 lbs under the height and weight restrictions for the B-Safe 35, but there is absolutely no way he would comfortably fit in it.
We did lots of research to find the safest infant car seat and almost all sites named the B-Safe 35. We feel confident that our son has the safest seat we can buy him. It even looks and feels more secure than other seats. I would take my son into the pediatrician in the seat and other people would say that was the seat they really wanted if they could afford any one. I felt so bad and I wish that every child could have this seat. We've moved up to the Britax Boulevard, so I'm donating his B-Safe 35 to a needy child who might otherwise be put in a sub-par seat. I wouldn't trust any other seat brand for my child. We are a Britax family for life!
I must echo some of the other reviews in that the Britax B-Safe 35 is way too narrow. My 6 month old was starting to look squished in the seat and by 9 months we're looking to upgrade already. The front buckle by the crotch is way too close on the B-Safe 35. Even when I moved it to the outter most hole (there's only 2), it is pushing against my baby's thighs and looks terribly uncomfortable. Lastly, my baby was able to unbuckle the top buckle as well. I have the older B-Safe model also and she fits perfectly in that one with room to spare. I'm not sure why they redesigned this model and made it worse.