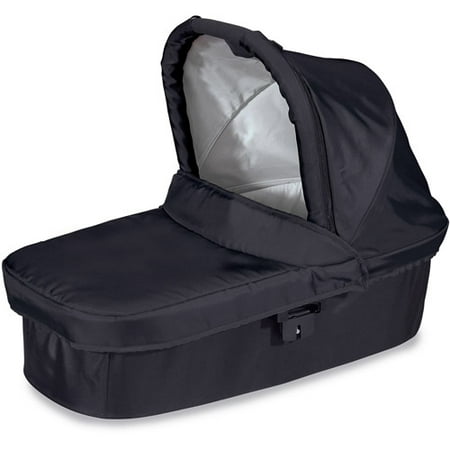 Turn your stroller into a bed for your baby with the Black Britax B-Ready Bassinet. This convenient accessory gives your baby a comfortable place to sleep, even when you are out and about. The Britax B-Ready stroller bassinet is designed for children up to 20 lbs so newer babies can go out with you even if it is nap time. It features a soft fabric belt that secures the child inside and helps to keep them safe. This baby stroller bassinet also has a canopy that can be adjusted to multiple different positions to help keep them in the shade. The black fabric on the bassinet can be removed for easy cleaning. It is compatible with the Britax B-Ready Stroller (sold separately).
Britax B-Ready Bassinet, Black:
Suitable for children from birth to 20 lbs
Soft fabric belt to secure your child
Large multiple position canopy
Britax B-Ready stroller bassinet has a removable bassinet cover
Fabrics easily remove for cleaning
Compatible with Britax B-Ready Stroller (sold separately)
reviews
The bassinet is great option if you are traveling with a newborn because you have a stroller attachment and somewhere they can sleep in one. It folds flat which makes it easy to pack. It works well with my B-Ready stroller. Walmart had the cheapest shipping of all the sites I researched, therefore had the cheapest price overall. However, my only complaint is that apparently Britax updated the bassinet and no longer includes the thick, fabric belt to keep your baby from moving around the bassinet while in the stroller. My best friend has the bassinet with the fabric belt so when I got mine in the mail, I assumed they accidentally left the belt off. I called Britax (they have very nice customer service) and spoke with a lady who said the new models did not have the fabric belt. As of today (10/22/16), the website still says it includes the fabric belt. I assume the reason the newer model no longer has the belt is for a safety reason, but I am disappointed it is not there any longer.
This product is wonderful & our newborn is very comfy in it. Highly recommend this product especially for shopping. Your baby will appreciate being in it for longer periods of time vs the carseat when shopping.