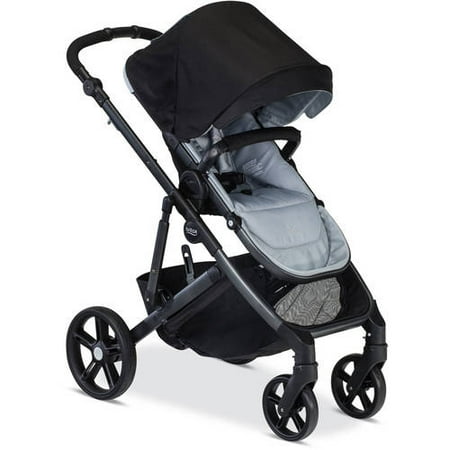 Britax's 2017 B-Ready is the ultimate versatile stroller for families with ever-changing needs. This model features a modern look and is adaptable to virtually any possible parenting scenario. The stroller offers quick one-step folding with one or two seats and 12 seating options plus a large basket that is accessible from all sides. And the Click and Go System provides easy connection to any Britax infant car seat for the perfect travel system. Parenting is full of surprises — face them head on with the 2017 B-Ready.
Britax 2017 B-Ready Stroller:
Quick-fold design easily closes the stroller in seconds, even with two seats attached
12 seating options adapt to your family's needs with multiple seats, a bassinet or infant car seat
Foam-filled rubber tires with frame suspension system provide a smooth ride without the hassle of air-filled tires
Click and Go System allows for a quick connection with any Britax infant car seat or bassinet
Travel system-compatible with other major infant car seat brands when used with Britax infant car seat adapter (sold separately)
Reversible top seat lets your child ride facing forwards or backwards
Automatic frame lock safely secures the closed stroller and keeps it compact for traveling or storing
Extra-large under-seat storage is accessible from all sides and fits all of life's essentials
4-position recline makes it easy to accommodate sleeping infants or attentive toddlers
Adjustable handle height with comfort grip raises and lowers to provide the best fit for parents of all heights
Holds children 6 months old and up to 55 lbs using the stroller's top seat (included)
Suitable for newborns when used with infant car seat, bassinet or second seat (sold separately)
Linked parking brake with red/green indicator locks both rear wheels with a single step
Extra-large canopy with ventilation window protects your child from the elements
ASTM compliant for top safety
Age range: 6 months and up
reviews
I just wanted to write a review so everybody would know that Britax is hands down the BEST company to purchase baby items. The customer service can not be beat. The b-ready is a amazing stroller, so versatile, and a great looking stroller. Thanks britax for everything!!!!
I purchased the black because i have boy and girl under 2 years old such a smooth ride. Easy handling and set up!
We got this stroller to replace the B Agile double since the car seat can't be used in it anymore.We have a 3 year old and a 4 month old. It's great, glides well, tight turns, and large storage basket is great. The only issue we are having is that the infant seat can only face forward on the bottom. My baby HATES when he can't see us and cries non stop. I wish this 2017 version was like the previous one because it could face either way.
I bought an older model of this stroller because I had the B-Agile and then had my second child. I wanted an option that could expand to two-seats. Here are the big points: 1. The lower seat being under the other, is also tough because you are maneuvering your child under the handlebar… versus some other brands where the lower child is in front. 2. I do love the brand and the carseats that go with it and use it as a double stroller, all the time. 3. It's very complicated to fold the stroller when it's a double. No one else is patient enough to learn how, so I always end up having to do it. 4. The harness straps are so tight on my very normal-sized kids, who are under the weight limit of the seats. I can't even strap them in anymore, especially if they have coats on. This just can't be ok. What's the deal?? 5. I also wanted the possibility to have two seats and a platform for a third to stand on – it wasn't clear that this wasn't an option until AFTER I bought it. I wish the description was more clear. If any of these were solved with a newer model, I'd love to know!
I got this when I was pregnant with my second daughter and can not stress enough how amazing it is! Going from a single to a double is a breeze and it rides so smooth. Unlike most big bulky double strollers, this one easily fits through aisles. The 12 different seating options are great too!
I bought this stroller three months ago, it was great for about two weeks. After that however, the front left wheel became defective. As a result, the stroller is now nearly impossible to turn, rendering it useless. I cannot, in good conscience, recommend this product.