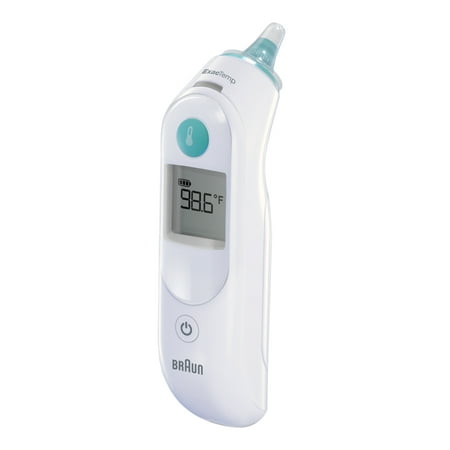 Designed to give you some peace of mind when your child comes down with a fever, the Braun ThermoScan 5 Ear Thermometer, IRT6020US with ExacTemp Technology delivers accurate temperature readings that you can trust. Used by more pediatricians' offices than any other infrared thermometer brand, the Braun ThermoScan Ear Thermometer, IRT6020US features a pre-warmed tip that improves accuracy, a unique guidance system that ensures precise results, and infrared technology that takes your child's temperature in seconds.
Accurate readings in just seconds
The ThermoScan thermometer is proven more accurate than forehead or rectal
Pre-warmed tip provides accurate measurements time after time
ExactTemp system uses a light & beep to confirm proper positioning
Large, easy to read display
Lens filters ensure accuracy and hygiene
Small, soft speculum for gentleness in-ear
Braun ThermoScan Ear Thermometer is recommended for infants, children and adults
Includes: 2 AA batteries, 21 lens filters and protective cap
Directions:
Instructions: Store between -13 degrees F and + 131 degrees F.
reviews
This item is exactly what I needed….very pleased! I have always purchased this brand thermometer.
This is the best I have had yet. Very accurate readings.
Super fast reading, liked the plastic tips included with the thermostat. Only down fall the led screen don't light up after reading this would be a super upgrade in feature. Only reason why the 4 stars and not the 5.
As the title, you can trust and it always work as expectation. Highly recommended.
Good product but have to buy ear covers often