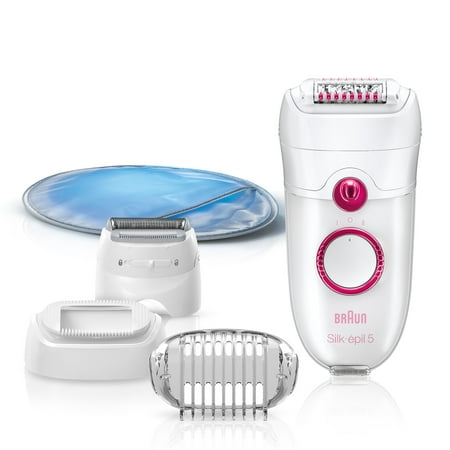 The Braun Silk-epil 5280 epilator is designed for efficient, long-lasting and gentle hair removal. The new Silk-epil 5 is ideal for women who are new to epilation. It includes Close-Grip technology with 40 tweezers that removes short and fine hair. It also has a Comfort System with massage rollers that stimulates the skin, plus a cooling glove to soothe after epilation.
Braun Silk-epil 5280 Epilator:
An extra gentle epilation with a Comfort System composed of high frequency massaging rollers and a cooling glove to soothe the skin after epilation
Braun's 40 close-grip tweezers for better removal of even the shortest hairs
Better adaptation to the contours of the body for more comfort
Effectively lift even flat-laying hair and help guide them to the tweezers for removal
Warnings
:
Warning Text: The appliance is not intended for use by children or persons with reduced physical, sensory or mental capabilities, unless they are supervised by a person responsible for their safety. Keep the appliance out of reach of children to ensure that they do not play with it. Do not use the appliance on irritated or inflamed skin. For hygienic reasons, do not share this appliance with other persons. This appliance must never be used near water (e.g. a filled wash basin, bathtub or shower). Keep the appliance out of the reach of children. When switched on, the appliance must never come in contact with the hair on your head, eyelashes, ribbons, etc. to prevent any danger of injury as well as to prevent blockage or damage to the appliance.
reviews
Bought this 3 weeks ago and very happy with it. Love the features and even can do my face, which is an extra bonus!
Did the whole job in less than 30 minutes with very little pain. If you have never epilated or waxed it can be painful at first, but you get used to it. So much easier than waxing, and much cheaper in the long run. I love the light. It is very quiet compared to other epilators I have used over the years. I recommend using an after epilating cream. It will leave your skin feeling remarkably soft and smooth. I read some of the negatives in the reviews and have not had any of the problems that were mentioned. This is a wonderful product that every woman should have if you want to eliminate the continuous hassle of shaving. You will not be disappointed.
I have pcos and have been shaving my side hair( on my jaw line) for a very long time, and hated it!!!! Shaving doesn't work well because it comes back so fast ( five o'clock shadow). This is the best option aside from waxing I've tried. I can operate it myself, and I couldn't wax or tweeze myself without straining my eyes (they hurt for two weeks…,… and I totally will not do that again). It doesn't hurt much…. to me it feels kinda like small electric snaps….. nothing serious. If you use it on the fast setting it's over in no time and so smooth. I haven't tried it on my legs yet, but I'm going to asap. This epilator is great because it has a flat head design. I bought one before this and had to return it because it had a concave head design that didn't work well on my face. I say if your thinking about trying it don't be afraid , just hold your breath and do it…… you won't regret it!
I brought this epilator around christmas and got a very good deal.i have been waxing it for long and thought of giving it a try.in the first time use hurt a little (actually pinched) bt this is how it feel based on the reviewes i saw online.The batter back up is awesome.i used it almost 3 times and it still worked!! I dont have to worry about rushing to the saloon now 🙂
So I bought this awesome thing based on the reviews and I am happy I did. I wanted to use it on my face I just use it on my face it works great it takes about two weeks for me to have to use it again. The first time I turned it on the sound it made was horrific it was my first time using one but after a while you get use to it and I love the results.
I have been using epilators for more than 10 years now. Lost my old one and decided to get this one. Regretted even the first use! The product pinched my skin multiple times. At one instance my upper arm skin got caught in and I had to literally pull it out and i had a purple patch on that site. I know it says stretch the skin and I did stretch it in the same way that I have for my previous epilators. Never have I felt such misery..