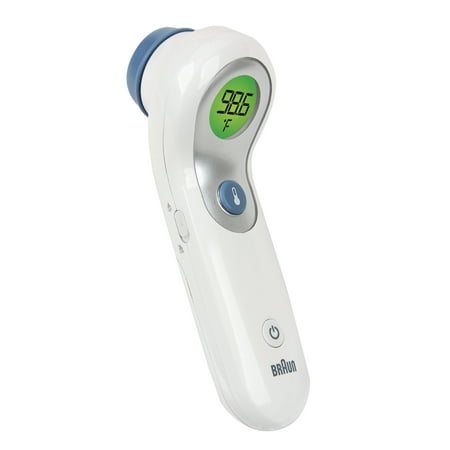 The new Braun No touch Forehead thermometer gives you the convenience you had been waiting for. It's the first ever thermometer with the convenience of two clinically proven options to take a temperature – completely non-invasive no touch, or the traditional forehead touch. It offers the same professional accuracy in either mode and is proven clinically accurate for all ages.
No touch convenience of measuring accurately from up to 2inces (5 cm) away
Traditional forehead touch temperature taking
Temperature Guidance System – Large color-coded screen for instant fever detection
Unique on-screen positioning system that confirms proper distance for taking temperature and gentle guidance light that directs you for accurate aiming
Easy to use and measures instantly in just 2 seconds
Safe and hygienic – no probe covers or lens filters needed
Directions:
Instructions: For home use only.
reviews
We are very happy with our purchase of this thermometer. Easy to use and accurate. Plus, ordering online and picking up in store was simple and cost saving.
I like it that it is easy to use I think everyone should have this in their home.
I LOVE this thermometer! It is so easy to use with our entire family and very accurate.
I have found this thermometer is within.. 3 degrees accurate lol. When your baby is really sick and you need to know what her temp is… you might be better off with a cheaper, more accurate model. It is much cooler and more convenient than a standard thermom, just wish it was more accurate!
I LOVE this thermometer! It has been great to use. Very easy to use and very accurate readings. My daughter hates other thermometers and squirms away, but not with this one!
This great for babies and toddlers who don't like to hold their arm still while they wait for an armpit reading with a standard digital thermometer!
This is a great thermometer for busy moms! quick, easy and accurate is what you want when your child is sick and this product delivers it. You won't go wrong buying this for the whole household and will be grateful you have it when the time comes it is needed.
I can place the thermometer on the same spot every time and I'll get a different reading every time. I'm pretty sure my body isn't 90 degrees when I have a fever..