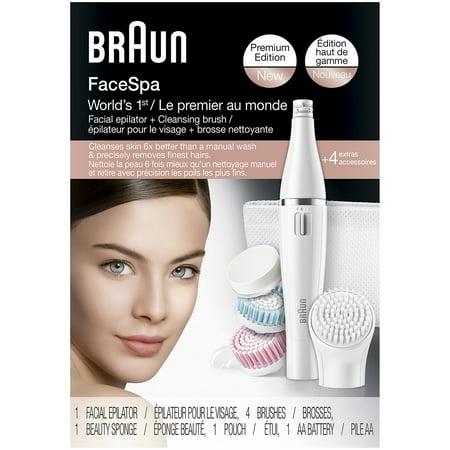 Precise facial epilation and pore deep cleansing. A world first, Braun Face lets you enjoy two treatments with one device simply switch the attachments. Easy to use, and boasting proven results, Braun Face allows you to precisely remove facial hair by the root with the facial epilator, plus cleanse skin pore deep with the facial brush. Your complexion can look visibly smooth, clear and fresh at the flick of a switch. Elegant yet highly practical, Braun Face is designed to fit seamlessly into your life. With its protective cap, the facial epilator is so discrete you can take it with you anywhere, anytime. Braun FaceSpa 851 – Mini-Facial Epilator with 4 Facial Cleansing Brushes and Beauty Pouch:
World's 1st facial epilator and cleansing brush system
Facial epilators: Sleek and compact design for precise epilation. 10 micro-openings catch even the finest hair (0.02mm)
Facial cleansing brush: Gently cleanses skin pore-deep with micro-oscillations. Tested with dermatologists for daily use on sensitive skin. Cleanses 6x more effectively than manual cleansing
Includes 4 different brushes to cover all of your skin care needs and provide a complete skin care regimen: normal brush, extra sensitive brush, exfoliation brush and beauty sponge
reviews
I have been using this product for over 2 years. I really like the epilator for my face (eyebrows, above lip) It makes the removal very easy. The face brush it is very nice and the sonic motion does help remove all impurities. The only thing I would wish is that Braun makes a charging station. The batteries while it last a long time it is a bit inconvenient to constantly change them if you use the brush all the time. My skin feels very cleasn and fresh.
The facial epilator is easy to use. It is not painful. I have tried threading and waxing and they are painful. I would recomend the Braun Epilator.
Love the way it makes my face feels
As for the other reviewer, the battery lid is a huge let down! It was always difficult to open but now is un-useable so the device is effectively useless. Would infinitely prefer device to be rechargeable.