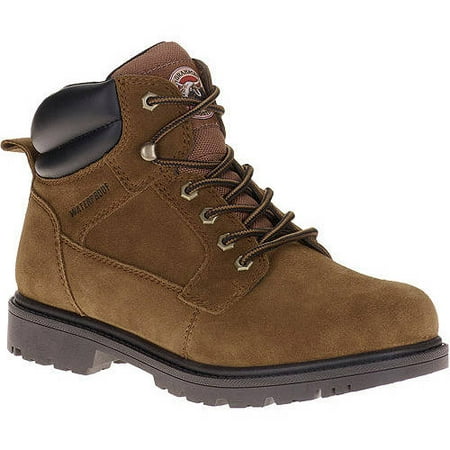 Get a hardworking boot with the Brahma 6″ Wide Men's Bravo Workboot. Constructed in waterproof suede, these men's work boots can keep up with your demanding life. With breathable mesh lining on the foot-bed, these shoes allow the healthy, in-motion air flow that resists excess foot odor. The professional design is enhanced with gold lace-up rivets for subtle style. Excellent for active jobs or hiking, this Brahma work boot is a smart wardrobe investment.
With PCU soles for traction, these shoes are safe for smooth-top surfaces and won't mark up the floors at home. The sturdy stitching and easy lace-up fastening make these men's work boots durable additions to your daily routine. And the padded tongue and foot-bed make all-day movement comfortable. Waterproof for inclement weather and unexpected spills, you'll get superior support when hiking, working or just looking for a reliable boot.
Brahma 6″ Wide Men's Bravo Workboot:
Wide men's work boot
Suede upper
Lace-up design
Gold lace rivets
Mesh lining on foot-bed
Padded tongue
Padded foot-bed
PCU sole for traction
Waterproof
Pull-tab for easy on/off
Ideal for use in active jobs
reviews
i just wish they came in black id buy 5 pairs if they came in black
I have super wide feet, I can never find any comfortable shoes. I tried a bunch of boots in store in different sizes, i can range from a 9 wide to a 10 normal, these actually fit in my true 9.5, and are a perfect fit. These are by far the most comfortable shoes I have even among my sneakers. BUT, the cost factor does come into play on the bottom rubber sole material, it is a strange very slick rubber, almost like a dense foam or something. It wont be noticeable if you mostly walk on cement asphault or dirt, but on smooth slick surfaces like a metal or painted surfaces or smooth wood, it is SUPER slippery, much more so than regular shoes, which is not good for boots. I got these for work in a construction site, but the painted metal roof I work on is extremely slippery. I do regret getting these for work, but I wear these everyday when I don't work. I need to invest in a safer pair of shoes for work on a construction site but these are fantastic cheap boots and look great for all purposes beside actual hard work where safety is a big concern.
An average boot for the price. They leak quickly where the sole meets the suede upper. Just walk on a wet lawn or street and water is felt immediately. They ran a bit wide and required a bit more lace tightening. This then caused piercing pain from the seam around the ankle where the cuff meets the suede upper. LaCrosse makes a better boot for the money
I searched today for a new model. Once again, another outdoor version and a little sporty. I noticed this boot in photos and I felt a desire to share some review. This boot has been incredible when purchased 14 years ago. Not only would I recommend this to a friend. I'd recommend this…even to an enemy! The cash I traded for this purchase has been one of the best finacial improvemant than any savings account available. These boots have performed well in hard work with warmth in extremely low temperatures in severe cold winters. The've also worked well in the heat of summer in lawn and garden and even construction labor. It makes hard days to work easy to clock in and get things done. The only thing I've had to do for these boots is replace the shoe strings…once. Who needs a warranty? The receipt I got should be in the Smithonian Museum of American History.
great value for daily work shoe
I bought these boots about a year ago before the winter started. Very comfortable but within 6 months, the treads on the soles had completely deteriorated and within 8 months, a hole penetrated the entire bottom. I wore them to my workplace which consists of concrete floors. Perhaps they are not suitable for that environment?? It's unfortunate because like i said, they were very comfortable.
Brahma 6" Wide Men's Bravo Workboot: Wide men's work boot Suede upper Lace-up design Gold lace rivets Mesh lining on foot-bed Padded tongue Padded foot-bed PCU sole for traction Waterproof Pull-tab fo...