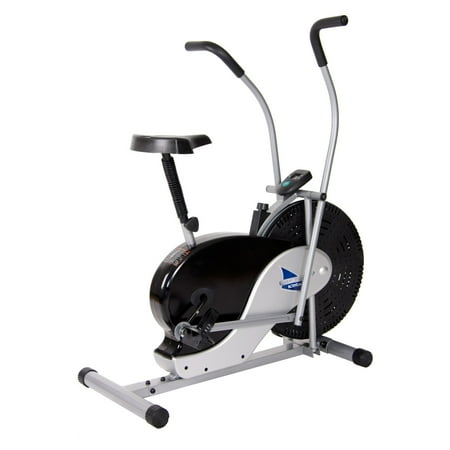 Get a great workout and have fun doing it with the Body Rider BRF700 Fan Upright Exercise Bike. It features dual-action handlebars so you can work your upper body alone or while pumping the comfortable and durable pedals with your legs. The rugged and versatile stationary bicycle includes a fan wheel so you can enjoy a cooling breeze as you build and tone your body. It also includes an easy-to-use tension adjustment wheel so you can add tension as you build strength with your repeated exercise sessions.
Body Rider BRF700 Fan Upright Exercise Bike:
Ideal for total body workouts, elliptical workouts, and upper body training
Features adjustable seat heights to accommodate a variety of users
Complete with fan wheel that provides a cooling breeze during workouts
Tensions adjusts with included knob so you can control intensity of exercise
Solid steel construction to withstand years of use
Some assembly required
Manufacturer's warranty included: see complete details in the Product Guarantee area
reviews
I can not stop using this bike. It was so easy to assemble and worth the time spent to put it together. This is such a wonderful machine that I have promoted this machine to others I know who are looking for something to keep the weight down during the winter.
The bike is what I expected. Low impact workout, which is what I was wanting but you can definately feel it when you're done! Assembly was fairly easy. The seat is not too hard like many people say, feels like an average bike seat. I would suggest this product to people.
Great bike! Can get a good workout. Keeps your time, calories etc. has multiple tension so both my husband and I can use as this is easy to change. Put together in about an hour. Also, super price!
Easy to assemble. Excellent directions. Operates quietly and smoothly. Great value.
Very sturdy bike, after a short break-in it works great, quiet, and is a good all around workout. Quality is good, comparable to stationary bikes 3x the price. LED display is a little small, so older users might find it hard to read.
Very easy to assemble, and it works like a charm. We use it every day. You don't have to worry about bad weather when you want to use it.
Unable to use bike. My legs dont reach pedals. They are to far back in bike. Need a bike with pedals in front. Have to fond someone to buy it from me.