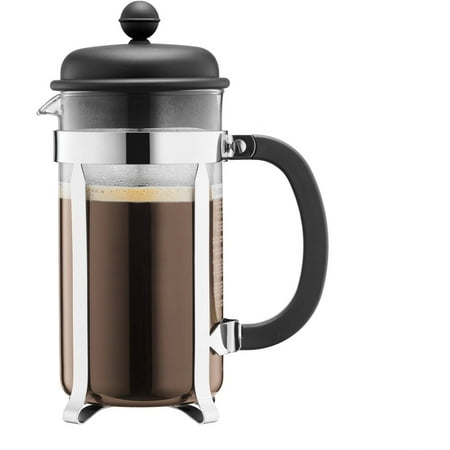 Brew your next cup of coffee the right way with this Bodum Caffettiera French Press Coffee Maker. Get your wake up drink bright and early and within minutes with this item. The Bodum french press coffee maker is high-quality. This is exactly what you have been looking for if you value your coffee. It is environmentally-friendly and easy to use. Simply add hot water and ground coffee and you are ready to enjoy a refreshing cup. It is large enough to make enough coffee for others. The design has a traditional look but it is very contemporary in its use. It is one of the most versatile and practical coffeemakers you can own.
Bodum Caffettiera French Press Coffee Maker, 3-Cup, 12 oz:
Allows you to brew flavorful coffee in 4 minutes
3-part stainless steel mesh filter is included which allows for a premium extraction of your coffee's aromatic oils and subtle flavors
No paper filters required, means more flavor without any waste
Patented safety lid prevents splashing of liquids while pressing
Dishwasher safe
reviews
Im the only one in the house who drinks coffee so this 12 oz coffee maker is just the right amount for me to drink each time. I love it. Im gonna buy another one for my parents too.
I use less coffee and get more flavor. A well made item. My first coffee press it uses no electricity easy too clean. I plan to purchase a second with larger capacity soon.